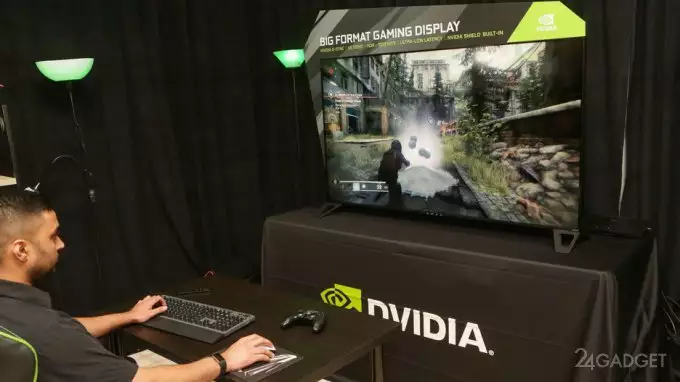 Nvidia introduced the BFGD (Big Format Gaming Display) gaming monitor, which allows gamers to use the 65-inch screen for games that require low response latency. In the development of a unique panel, developers from HP, Asus and Acer participated.
Technical specifications of the BFGD monitor allow you to watch video in 4K resolution with a frequency of 120 Hz. The display supports Nvidia's G-Sync technology and allows you to process images in a high dynamic range from various external sources. The highest brightness level of the monitor is 1000 nits (0.1 cd / cm²), which is significantly higher than, for example, in LG monitors (320 nits or 0.032 cd / cm²). BFGD fully covers the DCI-P3 color space.
Nvidia BFGD is compatible with the proprietary Nvidia Shield game console running on Android TV with access to NAS (Network Attached Storage). BFGD works with Nvidia's Google Assistant and Kodi. The monitor comes with a joystick and a Shield control panel equipped with a microphone for voice control.
More detailed technical parameters of the monitor are not reported, and there is no information about the cost of the device. The expected time for the start of sales of the BFGD monitor is the summer of 2018.