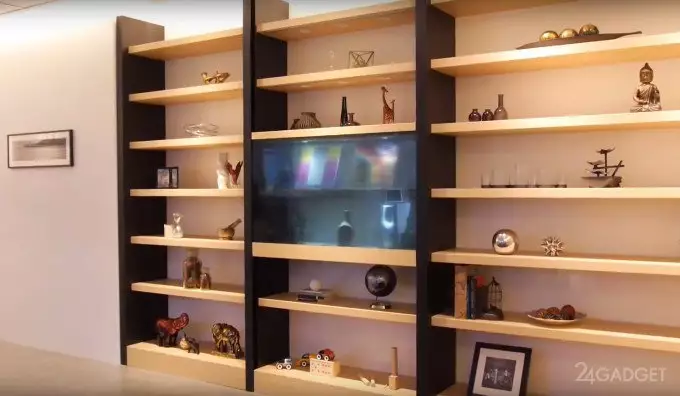 The technology for producing transparent displays is not new. Years earlier, it was already presented in prototypes of such world-famous companies as LG, Samsung, Pioneer. Here are just the size of the displays and the percentage of transparency was not as impressive as that of Panasonic's new products demonstrated at CES 2016.
The 65-inch touchscreen model was introduced as an integral part of the living room. At the stand of the Japanese manufacturer various options for integrating the panel into the interior were demonstrated. The novelty is a wooden frame with integrated glass, inside which there are miniature LEDs. They form the image on the screen. In broadcast mode, the device looks like a regular TV, but when turned off, it turns into glass, through which objects are visible behind it. The manufacturer suggests fixing the panel between the shelves, behind which various decor items or design installations will be placed.
There are, however, disadvantages to the prototype. According to Panasonic engineers, the panel is not transparent enough, so they will continue to work on this aspect. Although they should consider that some consumers do not like clear glass, but some tinting. Another caveat – the screen resolution is so far only Full HD, which is clearly not enough for a modern 65-inch panel. When the new product comes out on sale, it is not reported.