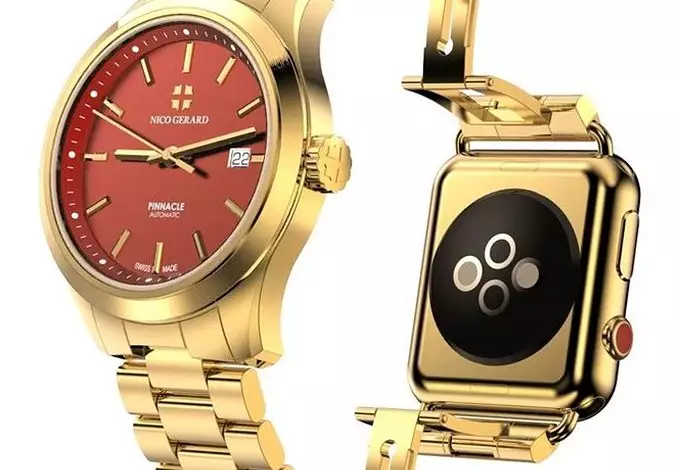 Realizing the love of many people for mechanical quality watches and the desire to be at the peak of the technological revolution, the Nico Gerard brand decided to launch a series of PINNACLE double watches.
On the front side of the wrist there will be a dial of analog watches, and on the back side above the clasp the new-fangled Apple Watch will be placed. You can change the location of the clock at any time. The idea is interesting, although the usability of wearing such a watch is doubtful.
Firstly, the design is heavy and bulky. Secondly, the location on the inner side of the wrist of the second watch will cause discomfort, for example, when placing your hand on a horizontal surface (table). Thirdly, it is likely to cause a larger number of scratches on the display (when working at a computer).
The cheapest version of the watch will cost $ 9,300, gold – $ 112,000. The gold version of Skyview PINNACLE includes the gold version of Apple Watch Edition, which costs $ 10,000 in retail. The number of exclusive watches made of precious metal is limited to 99 pieces, and in order to reserve one model for yourself, you must leave a deposit of $ 200. It takes about 10 months to wait for the delivery of the hours.