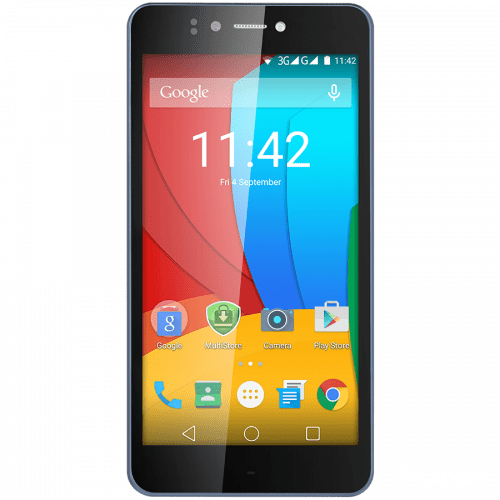 Today, in a review format, we offer a look at an interesting smartphone of the third series and, in combination, the flagship device from Prestigio, which is called Muze D3. The manufacturer himself positions it as a powerful, but at the same time affordable selfie background that is able to cope with all the daily tasks of a modern smartphone. Let's see if this is really so! The first thing that catches your eye when you look at the Muze D3 is the rather strict and original design of the device. The gadget itself for sale is presented in three color options: classic black, white and gold. The smartphone is running Android OS 5.0. A nice bonus is that the manufacturer promises software support, so you can count on timely updating of the operating system. A bright and fairly clear display with an IPS-matrix has a diagonal of 5.3 inches with HD-resolution (1280×720) and good viewing angles.
The smartphone is equipped with a decent processor MediaTek MT6582M and has four cores with a clock frequency of 1.3 GHz. Muze D3 has 8 GB of internal and 1024 MB of RAM on board. For a phone costing up to 9 thousand rubles, the technical specifications are really impressive. The device is capable of launching the vast majority of current applications from Google Play, and is even more suitable for watching videos and pages on the Internet. Also, the main 13MP camera of the smartphone with autofocus and a triple LED flash was pleasantly surprised. Convenient camera interface allows you to quickly configure shooting modes, switch between photos and video recording. The pictures themselves are obtained of decent quality, and even in poor lighting does not appear characteristic \On the front of the smartphone is a front-facing 5MP camera, which is perfect for video communication and selfie with good image detail. A nice bonus is the support for two SIM cards and a micro-SD card slot for up to 32 GB. And free 200 GB of cloud storage in the Prestigio Multicloud app included. The smartphone itself is not without flaws, but it fully justifies its value. Currently, the online store ozon.ru is conducting an interesting promotion for all lovers of a healthy lifestyle, fitness and training. By purchasing Prestigio Muze D3, the Prestigio Smart Body Weight Scale, equipped with Bluetooth Smart technology, is included in the package for free. These scales can synchronize with a smartphone or tablet, record and send data about the measured weight to the device. Using the specially developed Family Health Compass application for Android OS, smart scales determine the exact weight and body mass index of its owner, and also know how to track all changes over time. Such functionality will help to closely monitor changes in the body, adjust the diet and training to achieve better results.
You can buy Prestigio Muze D3 and get smart scales as a gift here.