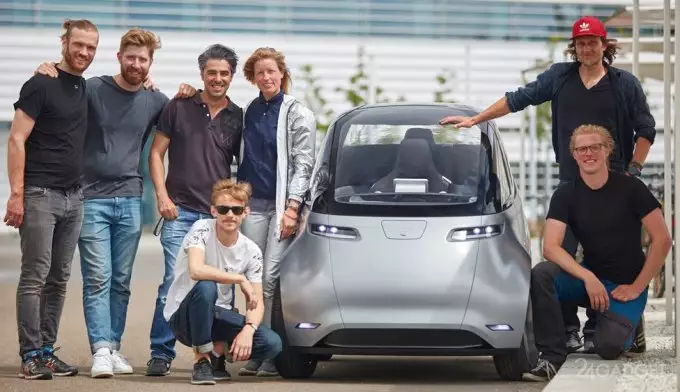 Young Swedish car designers have created Uniti One, a miniature electric car designed to overcome the urban jungle. The vehicle has already been successfully tested, and it is almost ready to be released onto Swedish roads.
The authors of a compact electric car promise potential buyers that one battery charge is enough to cover a distance of 300 kilometers. It is worth noting that the electric car was equipped with a small battery of 22 kWh, and this means that the development turned out to be on a par with the quite serious competitor Nissan Leaf, and in terms of light weight and design it can even surpass it. The technical team of the project advises to take with them a removable charged unit to double the mileage if you have a long trip.
Uniti One double. It weighs 450 kilograms. Dimensions are 2.91 x 1.428 x 1.275 meters (length, width, height). An electric car can accelerate to 130 kilometers per hour.
It is curious that the passenger seat was located right behind the driver's seat. The windshield is wide enough to provide excellent visibility to the driver. The car was equipped with a set of on-board sensors. It includes safety sensors, a steering joystick, which provides additional driving comfort, and a proprietary display system designed to make it easier to drive a vehicle. Uniti One is likely to start selling next year. It will cost 14,900 euros.