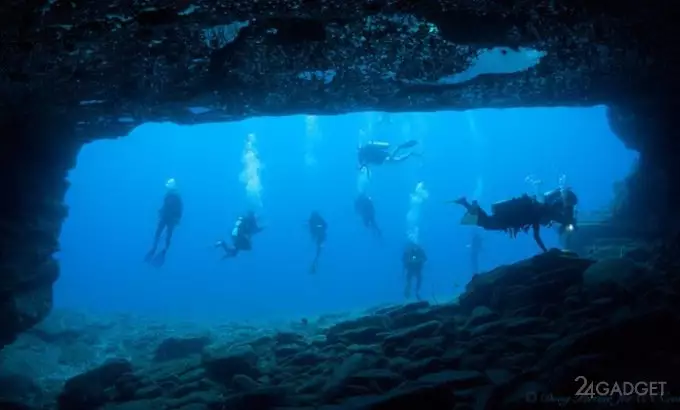 IVA Technologies is a software and telecommunications equipment manufacturer from Russia. Recently, the company successfully completed testing a mobile radio station for wireless communications underwater. Its engineers tested the device in the Black Sea with the help of professional scuba divers. During the test, scuba divers established voice communication with each other at a distance of 50 meters and a depth of more than 10 meters. For the first time in history, a radio communication session successfully passed through a media boundary: people underwater talked to a base station located on the surface on a ship. When the signal was transmitted, the portable gadget could easily cope with temperature differences in water layers and natural obstacles that limited the functioning of hydroacoustic communication devices.
A radio station is a fairly compact device. It consists of a transceiver unit and a transceiver antenna. The dimensions of the antenna allow you to place it on the suits of divers and not create any interference with their movements. The device operates based on the propagation of electromagnetic waves. This mobile radio station for wireless communication under water is designed to solve a significant range of problems. For example, the protection of the waters of marine bases, monitoring and exploration of offshore mineral deposits, rescue work under water, maintenance of infrastructure facilities and water vessels in ports, communication of divers and instructors, control of uninhabited underwater vehicles, communication of descent commanders with divers and so on.
The development was commented on by the Chairman of the Board of Directors of IVA Technologies Nikolay Ivenev. According to him, hydroacoustics was still widespread, which until recently was considered the only portable solution for communication under water. But she has quite a few significant limitations. For example, hydroacoustic systems do not know how to transmit signals between water layers, as well as across media boundaries. In addition, the slightest obstacle, such as algae, will prevent the signal from spreading. The range of its transmission is significantly reduced and under the influence of factors such as sea waves or currents under water. Hydroacoustics these days is not able to ensure the stability of communication between divers working at depth and a vessel located on the surface. At the same time, there is a huge need for a compact solution for high-quality wireless communication under water for various structures, both civilian and military. Evenev notes that, if we evaluate the results of testing the new system, we can proudly say that a truly innovative , a breakthrough decision. It has the potential to improve the quality of communication under water. And also – to expand opportunities in the study of the oceans.