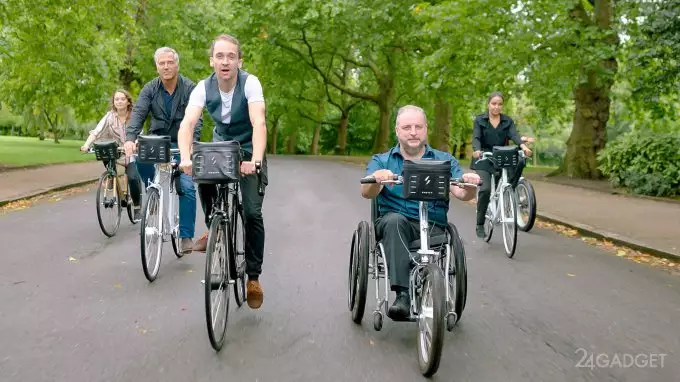 Swytch, a device from a British startup, helps to turn any ordinary bike into an electric bike. To turn a vehicle into an electric one, you only need to replace one of its wheels with a motorized version of the Swytch. Its power reaches 250 watts.
Click on the picture to view the animation A sufficient number of devices with a similar scheme have already been released to the market. The difference between the new items is that it has a separate eBike Conversion Kit battery pack. If the trip is ordinary, walking, the owner of the device can simply remove the bag from Swytch, so as not to carry unnecessary burdens.
The international version of Swytch is able to accelerate to 32 kilometers per hour, supporting the entire electric mode. In addition, there is a version with a capacity of 350-500 watts. In the EU countries, due to the peculiarities in the legislative system, a model model with a speed limit of 24 km / h is proposed. The actual mileage is directly dependent on the battery capacity. It reaches 40 or 80 kilometers. A full charge of the device will take three to four or five to six hours, respectively.
Click on the picture to view the animation The creators promise that their device can be used on almost any bike, including even penny-farthing and cruisers. All parts are pre-protected from moisture. You can ride them even in rainy weather. The design will make the bike heavier by 3. 9 or 4.8 kilograms.
You can order the basic version of Swytch at Indiegogo for $ 300. A model with a large battery is priced at $ 350. For $ 435, a version with a more powerful electric motor is offered. You can create an individual option for a special order for two thousand dollars. The company plans to start deliveries in mid-spring of next year. The retail price for the Swytch kit will start at $ 650.