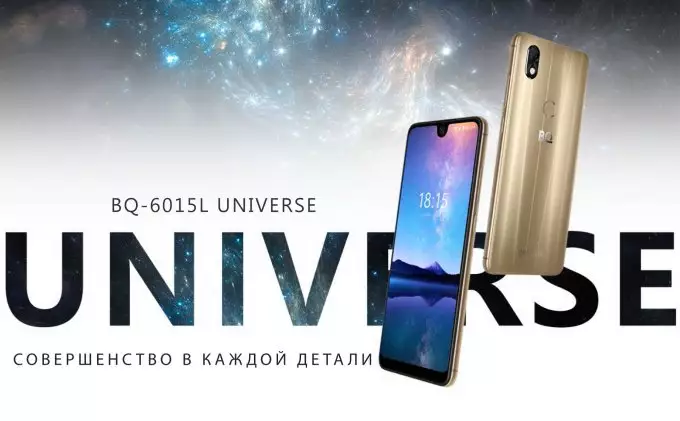 The Russian brand of mobile electronics BQ introduced the first ever smartphone BQ Universe with a large frameless 6 "screen with an aspect ratio of 19: 9 and a resolution of HD + 1528×720. A screen with such high quality visualization provides the effect of complete immersion in a movie or game, since the entire useful surface area of the screen is used. In addition, the smartphone's display has a Gorilla Glass 3 coating, thanks to the special technology of which the smartphone has become more resistant to scratches. And its high-quality case, made of a mirror 3D coating, emphasizes the premium status of the model. It is pleasant to the touch, and thanks to the smooth rounded edges, this ergonomic smartphone does not slip out of your hands. For high-quality photos and videos in the new smartphone there are 2 highly sensitive cameras – the main 13 megapixel with autofocus and front 16 megapixels. The f / 2.0 built-in lens helps capture more light, making photos clear and detailed. Both cameras feature a multi-frame combination that uses information gathered with multiple open shots, automatically adjusts and combines the image for clear, sharp, low-level shots noise. Noise and color are greatly improved thanks to the multi-frame combination.
In addition, to achieve super-quality photos in the smartphone there are SuperPixel and SuperPhoto software. This allows you to create images with the highest resolution, which significantly increases the level of zoom compared to the basic digital zoom. For performance and smooth operation in the smartphone meets the powerful 8-core processor from Qualcomm's global giant – Snapdragon MSM 8940. The presence of eight cores allows you to comfortably work in multitasking mode. This platform supports rich, high-quality camera images and stunning graphics with optimal speed and energy efficiency, and the latest OC Android 8.0 provides high-performance smartphones in multi-tasking while opening resource-intensive applications. The user also has 3 GB of RAM, 32 GB of internal memory with expandable via Micro SD up to 128 GB.
An important advantage of BQ Universe is the built-in NFC function with support for payment of goods via Android Pay. Thanks to the contactless payment system and the Android Pay application, you can buy goods just by paying them with one touch of a smartphone. In addition, BQ Universe has a smart screen unlocking feature Face Unlock, a fingerprint scanner, VoLTE support, an optimal battery capacity of 3000 mAh with the possibility of fast charging, as well as the OTG support function, which allows you to connect external electronic devices to the smartphone and use the smartphone as a power bank.
You can buy a smartphone in the official online store of the manufacturer for 12,990 rubles. Source: press release BQ