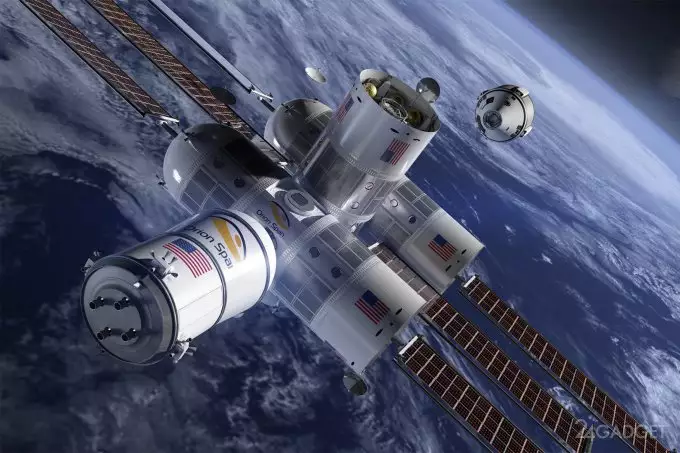 Orion Span, an American startup company, has announced its intention to launch a luxury hotel in Earth orbit. The project implementation period is only 3 years. The space hotel called Aurora Station will be able to receive the first guests already in 2022.
For a stay at Aurora Station for 12 days, a tourist will have to pay 9.5 million US dollars. The company noted that this program includes not only accommodation, but also preparation for three months, as well as delivery to the space station and back via Virgin Galactic transport vehicles, with which Orion Span startup recently concluded an agreement.
Initially, the orbital hotel will be the size of a small private plane, its length will not exceed 13 meters, width – a little more than 4 meters. At the same time, four guests and two crew members will be able to stay in such a hotel. In the future, the dimensions of Aurora Station will increase by docking new modules. During Earth days, people living in Aurora Station can not only enjoy weightlessness, the view of 16 sunrises and sunsets in 24 hours, but also experience the peculiarities of eating, visiting the restroom and shower.
So far, however, the degree to which Orion Span is ready for such ambitious intentions is not very clear. Startup will collect your hotel in a complex located in Texas Houston. The complex itself has not yet been built. Frank Banger, the head of Orion Span, told reporters that he plans to build his company within 6 to 9 months. It seems that the owners of the California startup Orion Span really want to get ahead of the construction and launch on the ISS of a similar hotel, the implementation of which is scheduled for 2022. In addition, the cost of space travel is voiced much more modest than that of Roscosmos.