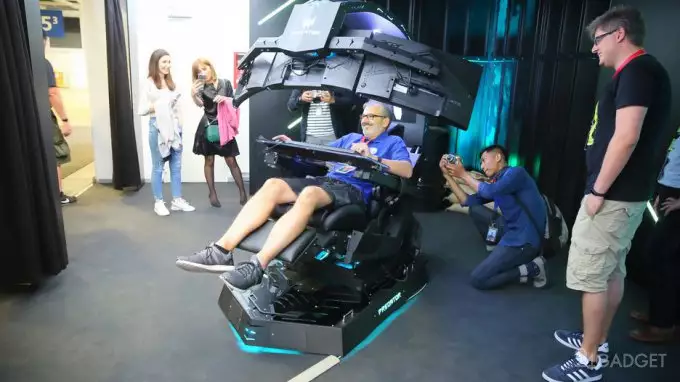 On the eve of the official opening of the IFA in Berlin, Acer demonstrated the new The Predator Thronos Gaming Chair, but the term "chair" is an understatement of the device and the Predator Triton 900 gaming laptop transformer with a 4K screen. The Predator Thronos looks more like a steel cabin or a 1.5-meter-high drilling rig, which includes a comfortable black seat in the middle with lots of adjustments and additions, such as armrests, footrests, a USB port. A curved motorized patch wall can hold up to three 27-inch gaming monitors. This wall is lowered right in front of the gamer's face. The cab can recline up to 140 °. Predator Thronos even vibrates according to the gameplay being played. The PC case was placed next to the chair, which is somewhat out of the general futuristic style.
Acer did not provide any price details, but it is expected to be extremely expensive. In addition, you need to make sure that the room has plenty of room for installing Thronos.
Another shocking novelty from Acer is the latest Predator Triton 900 gaming laptop, which is very similar to other Acer 360-degree laptops, but with a 360-degree screen. The
Predator Triton 900 features a 4K UHD touchscreen with Nvidia G-Sync. The idea is that in addition to using it like a regular laptop, the user can bring the screen closer to himself (and the keyboard on the front panel), and also turn it over or convert it to a tablet. The Predator Triton 900 also received the latest fourth-generation Aeroblade 3D from Acer, a mechanical low-profile RGB-backlit keyboard and switchable trackpad with a hidden, illuminated digital stand.
Acer did not say anything about the specific specifications for the Predator Triton 900, and there is no data on the processor and GPU. Neither the price nor the release date is known, but given the pedigree of the Predator line, it is likely to be very high. At the time of the exhibition, the novelty, like a museum exhibit, was placed in a glass box, which suggests that the company has so far brought a prototype device that is not yet ready for mass production.
, acer.com