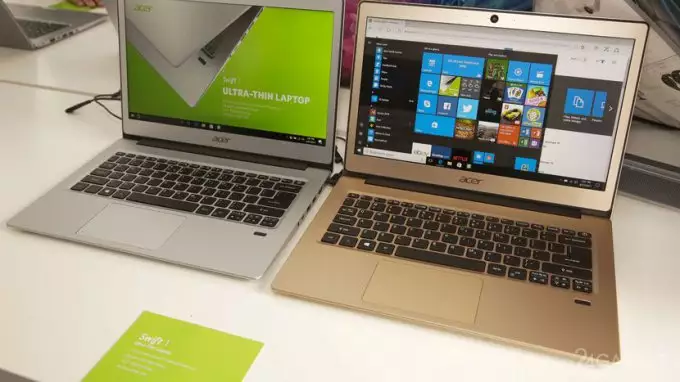 During the presentation of Next @ Acer, held in New York, Taiwanese company Acer announced a new generation of compact laptops Swift 1 and Swift 3 based on Windows 10. Lightweight thin models will please any traveler with high levels of autonomy. According to the manufacturer, the equipment is able to function without recharging up to 10 hours. Among other things, the developers paid attention to the issue of cybersecurity: access to the system is protected by a fingerprint sensor.
Swift 3, clad in a steel case, attracts special attention. The device will be offered with a display of 14 and 15.6 inches diagonally. Swift 3 uses an IPS resolution Full HD resolution, an Intel Core i7-7500U processor with a frequency of 2.7 GHz, 4/8 GB of RAM, a USB 3.1 Type-C port, a card reader, Wi-Fi 802.11ac and Bluetooth 4.0 wireless adapters. Optionally, a discrete NVIDIA GeForce graphics card and an HD camera of the Super High Dynamic Range format are installed. Information can be stored on an SSD-drive (512 GB) or a hard drive with a capacity of up to 1 TB. The thickness of the laptop is 17.95 mm and the weight is 1.8 kg.
Acer Swift 1 simpler. It is equipped with an Intel Pentium N3710 (1.6 GHz) for four cores, an integrated graphics system IntelHD Graphics 405, 4 GB DDR3L and SSD 64/128/256 GB, a wireless Wi-Fi 802.11ac 2×2 MU-MIMO and Windows 10 Pro or Windows 10 Home to choose from. The laptop weighs no more than 1.3 kg, and its thickness is 14.95 cm.
In specialized stores, models will appear in June. The recommended price for manufacturers is 650 and 400 euros, respectively.
, cnet.com