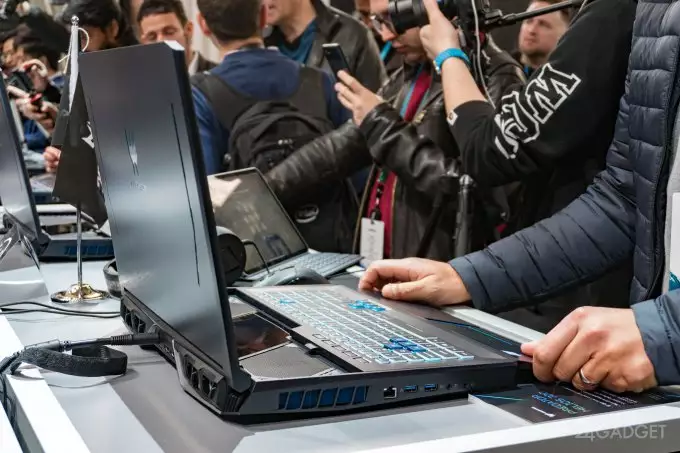 Acer at the annual conference announced the Predator Helios 700. This gaming laptop looks very similar to the larger version of the Predator Helios 300. One key difference is the ability to push forward the Hyper Drift panel with a touchpad keyboard to give your hands an emphasis. This not only adds ergonomics to the device, but also makes cooling more efficient.
Acer Helios 700 is the flagship with the appropriate filling. The diagonal of the new IPS-screen is 17 inches with Full HD resolution, 144 Hz refresh rate, 3 ms response and support for NVIDIA G-SYNC technology. Inside, Intel's Core processor has not yet been announced for the 9th generation. You can choose 1 of 2 graphics accelerators from GeForce RTX: RTX 2080 or 2070. The technology of ray tracing is supported. RAM holds 64 GB.
The Hyper Drift keyboard is part of a cooling system consisting of 2 coolers, 5 copper tubes and an evaporation chamber. All this cools the graphics card and processor. This system can be partially seen thanks to a transparent panel made of safety glass. Helios 700 will begin to sell in the United States in late April at a price of $ 2700. The novelty will arrive in Europe in the middle of summer and will cost 2700 euros.
Acer was not the first to offer a gaming laptop with an original design. Recently, the company demonstrated at the CES exhibition the transformer Predator Triton 900. This laptop is equipped with an unusual swivel mechanism that flips the display.
In parallel with the rather expensive Helios 700, the manufacturer also offered a more affordable modification: 2 versions of Helios 300 with 15.6 or 17.3 inch display diagonals. Both options have IPS panels with Full HD resolution and a frame frequency of 144 Hz.
The novelty may have Intel Core 9 generation processors or other configurations up to Core i7. Graphics – discrete, RTX 2070 Max-Q from GeForce in the top configuration. RAM up to 32 gigabytes. Data can be stored in a combination of two SSDs with a PCIe interface. At Helios 300, the chassis was upgraded, decorative inserts were added, and the keyboard was equipped with RGB-backlight. This model will start selling in the US in April for $ 1,200. She will come to Europe in June and will cost from 1,500 euros.
Updated Acer and Nitro 5 laptop in configurations with a diagonal of 17.3 and 15.6 inches. The brand-new Nitro 7 is also introduced: a thin laptop with a diagonal of 15.6 inches, a 9th-generation Core processor from Intel and GTX graphics from GeForce. This device was priced at $ 999 for the United States and € 1,200 for Europe. While the updated Nitro 5 will cost less at $ 200 and 200 euros, respectively.