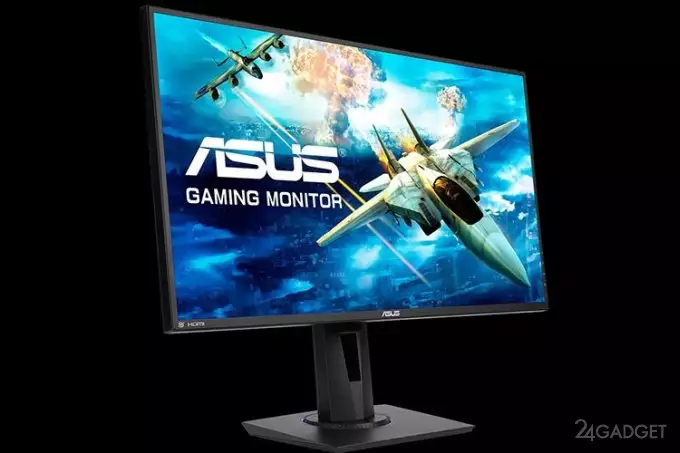 ASUS has expanded its line of budget monitors for fans of computer games by announcing a new development called VG275Q. The 27-inch panel has an excellent response time of 1 ms. (Gray to Gray), refresh rate of 75 Hz and Full HD resolution of the TN matrix (1920 × 1080 pixels). The presented device has a viewing angle of 170 degrees horizontally and 160 vertically. The screen is made on a TN matrix, which somewhat limits image quality, but allows to achieve an excellent response rate when switching between shades of gray 1 ms. The new monitor has a brightness of 300 cd / m2. Using AMD FreeSync technology makes it possible to synchronize frames and achieve a dynamic refresh rate in the range from 48 Hz to 75 Hz.
For the user, an important point is the use of the rheostatic method for adjusting the brightness of the LED backlight, this reduces eye strain due to the reduction of the flicker effect. In addition, ultraviolet radiation is reduced. ASUS has announced the power consumption of the VG275Q monitor up to 40 watts.
A separate DisplayPort 1.2a port is provided to support AMD FreeSync technology. There are also two HDMI 1.4a sockets, two 2 W speakers, a D-Sub and two traditional 3.5 mm jacks for headphones or a microphone. The original design of the stand provides the ability to adjust the tilt in vertical and horizontal planes, set a custom height and change the orientation of the screen from landscape to portrait by turning 90 degrees. The estimated cost of the ASUS VG275Q is $ 300.