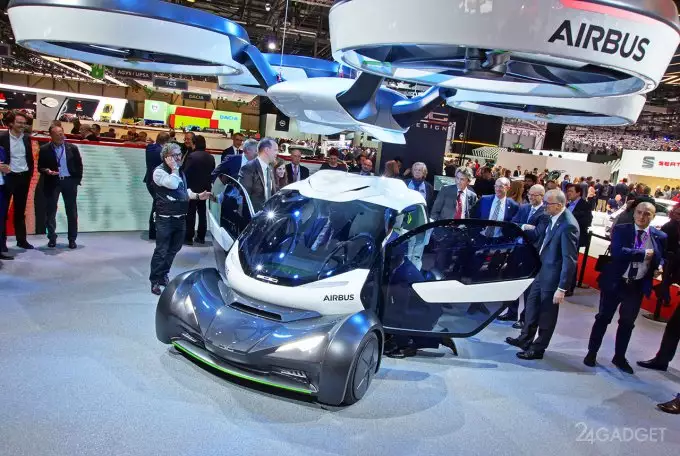 To solve the problem of automobile traffic in large cities, oversaturated with transport, took the airline Airbus. At the traditional annual motor show in Geneva, a conceptual development of a modular car moving through the air and on land highways was presented. The concept, called Pop.Up, was developed by Airbus in collaboration with Italdesign, an Italian engineering company specializing in automobile design. Earlier, Airbus already had experience in developing the concept of a flying taxi, the use of which can also reduce the load on the roads of megacities.
This concept car is a design of three main modules. The capsule for passengers, with dimensions of 2.6 m in length, 1.4 m in width and 1.5 m in height, is a separate module that can be mounted on a wheeled platform designed for ground trips. The third module provides movement in the air and is an 8-rotor system with two screws per axis. Picking up the passenger cabin of the car, such an aircraft quadrocopter module freely moves through the air regardless of the loading of the highway.
In order to reduce the weight of the car Pop.Up, the body is proposed to be made of carbon fibers. Electric energy is used for movement, and a full charge of the car takes only 15 minutes. In the currently proposed concept, the flight range on a single battery charge reaches 95 km, and the module will be able to travel 130 km on land routes. It is worth noting that each of the three components of the vehicle is equipped with its own set of batteries. The battery capacity in the flight module (take-off and landing is performed in vertical position) is 70 kWh, take-off weight is 600 kg. The maximum speed of movement of Pop.Up in both modes is 100 km / h.
Airbus developers have suggested that the real use of flying cars will be possible in the next decade. But the city of Dubai this year is ready to try new technologies in real conditions. For this purpose, Chinese single-seat drones EHang 184 will be used. The time frame for which Airbus plans to commercialize its concept and how much it will cost to buy the new product for the first owners is not specified.