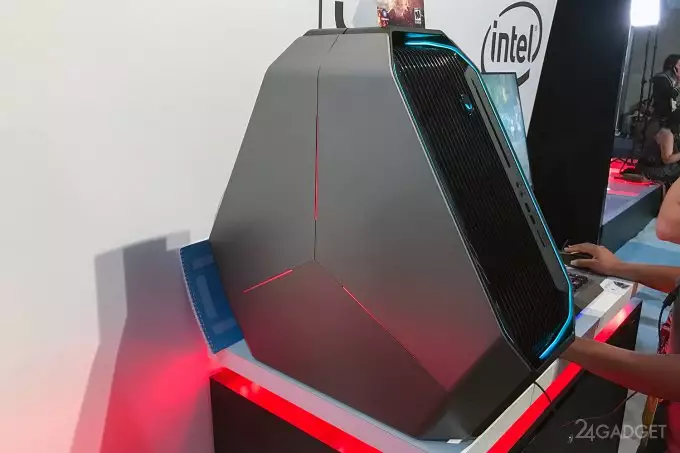 The Alienware team, a division of Dell, talked about the features and design of the Area-51 desktop computer. The gamer-oriented model comes in an unusual case with beveled edges.
PC performance is provided by three versions of the Intel Core X-Series: Core i7-7800X, Core i7-7820X and Core i9-7900X. In the most advanced version, the four-module Kingston HyperX DDR4-2933 RAM is installed, the volume of which reaches 64 GB. The latest generation of discrete graphics accelerators NVIDIA GeForce GTX and Radeon RX are responsible for graphics processing – they are installed in two or three, depending on the configuration chosen by the buyer. A liquid cooling system is provided. Flexible settings are also used by the internal memory. You can choose from a standard disk drive up to 2 TB or a solid-state M.2 PCIe SSD module up to 1 TB. Disks communicate with each other, the total volume – up to 3 TB.
USB 3.1 Gen 2 Type-C, USB 3.1 Gen 2 Type-A, USB 3.1 Gen1 Type-A (× 6) and USB 2.0 Type-A (× 2) are available from the connectors. Wi-Fi 802.11ac and 2x Gigabit Ethernet are responsible for the Internet connection. There is a wireless Bluetooth 4.1 module. As an operating system, Windows 10 Home or Windows 10 Pro is offered. The price of the new product is quite consistent with the filling and starts from $ 1900.