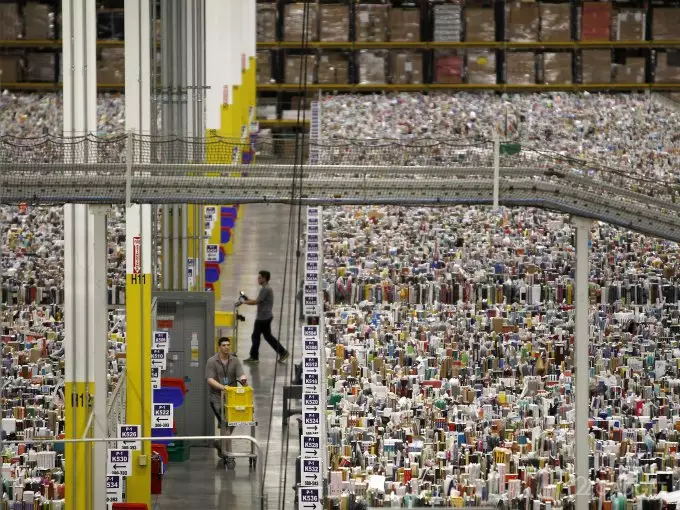 As experts joke, if the new ultrasonic bracelet is used in production, Amazon warehouse employees will not be able to literally scratch their nose without the knowledge of management.
Amazon has patented a bracelet that tracks the position of the hands of workers looking for items in a warehouse to collect customer orders from an online store. If the subordinate wants to search for the item in the wrong place, the bracelet will signal the absence of the required article in this place. So a single minute will not be spent searching.
It is worth noting that the most important component in the activities of Amazon is the speed of searches. When an order comes from the buyer, warehouse workers on their tablets see all its details. At this moment, they are required to quickly find the necessary things in the endless compartments and shelves, and then proceed with the assembly of the next application. According to the developers, the new product allows employees to save a lot of time and effort. There will be no need to scan the barcodes tied to the compartments, and a special computing module that determines the position of the employee's hands relative to storage shelves and baskets will notify with vibration of their carrier that it is stretching in the wrong direction.
Moreover, this ultrasonic gadget will from time to time transmit specific impulses to a special signal receiver. At the same time, it will be possible to track exactly where the employee is at one time or another, how and where he is looking for an order and how efficiently it does it. In essence, company employees will be completely deprived of privacy. If you just want to and Amazon management will be aware of how many times each shift each of them scratched their nose or sat down to rest not in their break.
The company has long been famous for the small salaries of employees. As well as the total desire to turn them into "living robots" performing monotonous timer operations in the warehouse. The ideology of global surveillance that has layered on all of this threatens a new wave of workers' indignation. But they had previously held strikes. At the same time, Jeff Bezos, saving on his hard workers, has already managed to become the richest man in history. In early January, the size of the state of this IT-businessman exceeded the mark of 150 billion dollars. The previous record was set nineteen years ago by Bill Gates, one of the founders of Microsoft. At the same time, Bezos surpassed him not only in the list of the richest people on the planet, but also in a similar ranking in human history.