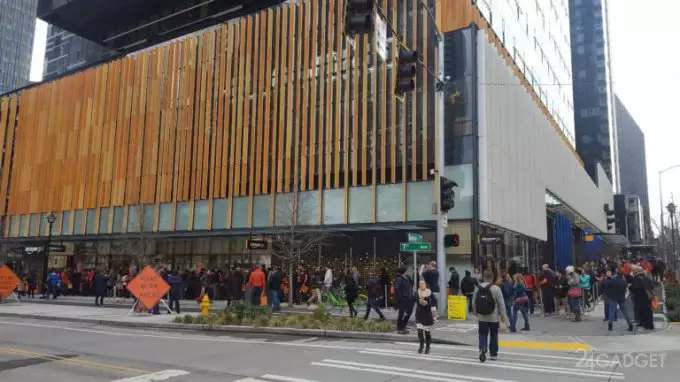 In Seattle, the very first Amazon Go was opened for all people – a store devoid of cashiers and lines. At the entrance of customers using a smartphone through Amazon Prime, the system meets. It consists of cameras, sensors, machine learning and computer vision. Having collected products on the shelves, the buyer leaves. In the meantime, the system monitors what exactly was purchased by the customer and independently deducts the necessary amount from its account in Amazon.
Naturally, the residents of the city showed an incredible interest in the new store. They wished to test such unusual technologies on themselves. As a result, a huge tail grew in front of the storefront without queues.
According to experts, customers have become free testers of the system, providing it with maximum load. The survey indicates the normal operation of the store. Journalists tried to intentionally outsmart the computer: they took one product, but then returned it, replacing it with another, then exchanged goods with each other, passing from hand to hand. The system did not fail.
However, another correspondent, Deirdre Bosa from CNBC, turned out to be a random thief in a jar of Siggi yogurt. After going to Amazon Go, she did not find the named product in her check, which she immediately reported on the social network. Amazon quickly reacted to the situation. Gianna Puerini, vice president of Amazon Go, said that such unintentional thefts do happen, but are extremely rare. The company did not begin to create a special tool to inform customers about such incidents. She also thanked for the honesty and wished the journalist to enjoy yogurt.
, Deirdre Bosa