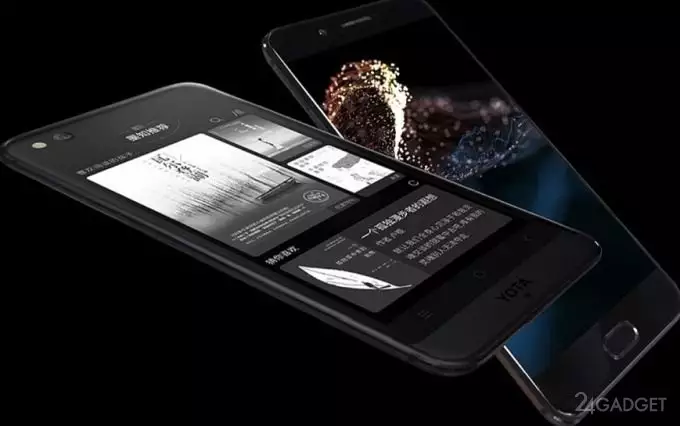 The official YotaPhone 3 smartphone, traditionally equipped with two screens, was held at the Beijing Embassy of Russia. Over hundreds of specialists from China, Finland and Russia worked for more than 10 months on the development of the device. The presentation was made by the Russian ambassador to China A. Denisov, who called the YotaPhone 3 a symbol of Russian-Chinese technical cooperation.
The main advantage of the presented smartphone is the presence of two displays. The main color 5.5-inch Full HD-display is manufactured using Super AMOLED technology, and the second, 5.2-inch monochrome HD-display is based on E-Ink electronic ink technology. A sufficiently large second screen will provide an opportunity for comfortable reading without undue strain on the eyes, as well as to save smartphone energy – from the second screen you can read various information notifications. For the Chinese market, the smartphone will be equipped with popular e-book readers: China Reading, iReader, Lebook and Migu and equipped with a pre-installed base of classical and modern literature.
The hardware base of the smartphone is based on the 8-core Snapdragon 625 processor, Adreno 506 graphics core, 4 GB of LPDDR RAM and 64/128 GB of internal flash memory. The device did not receive a dual module, so the set of cameras looks standard: 13-megapixel main and 12-megapixel front. There is also a sensor to determine which screen is facing the user and requires unlocking for later work. Under the main display, a fingerprint sensor is built into the mechanical Home button to identify the user. The battery in the YotaPhone 3 has a capacity of 3300 mAh, there is no headphone jack. The smartphone supports LTE and work with two SIM-cards. There is a USB Type-C port. There is a new product on the proprietary shell YOTA OS 3.0, based on the Android 7.1.1 Nougat OS.
The official name of the smartphone for sales in China will be YOTA3, in Russia and other countries, where its implementation will begin a little later, the device will be called YotaPhone 3. A version with 64 GB will cost about $ 350, and YotaPhone 3 with 128 GB is priced at $ 450.