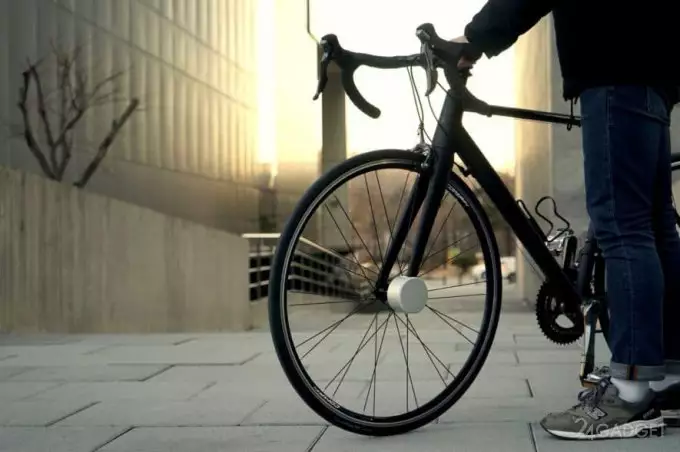 A startup from South Korea has developed a Bisecu non-contact smart lock for a bicycle in the form of a small cylinder mounted on the front wheel. To open and close it requires the owner's smartphone. Bisecu is controlled via Bluetooth using a mobile application. Moreover, the user does not even need to go into the application to control the gadget once again: it is enough to move away from your "iron horse", as the signal disappears, because of which the front wheel is automatically blocked. By the way, it opens in the same way, if only the owner approaches the bicycle.
The developers also installed an alarm in the device warning of an attempted theft. As soon as a thief who has noticed a bicycle that is not fastened with a chain, gets on the "booty", an alarm with a volume of 100 decibels will be heard immediately, almost like in a car. Here, any hijacker is blown away by the wind.
The developers have taken care of what to do if the smartphone is discharged at the most inopportune moment. In such a situation, it will be enough to dial the appropriate code combination on the lock. But that's not all – there are additional bonuses: the application will calculate how many revolutions the wheel has made and will give information about the speed of movement and the distance covered. In addition, it will inform that the lithium-polymer battery on which this miracle lock works is starting to discharge. However, this situation will occur only twice a year, since the charge for the Bisecu castle will last about 6 months.
In the second quarter of 2017, Bisecu developers are going to launch a crowdfunding campaign on Kickstarter. So far they have not reported how much the useful gadget will cost, but according to preliminary information, the price will vary between $ 100-150.