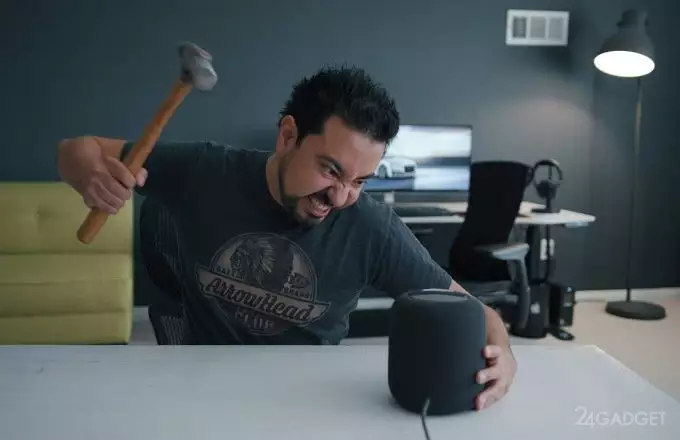 Purchasing and repairing Apple products has always been expensive. For example, in the absence of an extended warranty option, you can replace the screen on the iPhone X in the official service center for $ 279. For the change of the rear window, they will take 549 dollars here. Of course, "apple" gadgets have to be handled with extreme care. An extra reminder of this is the price of repairs for Apple HomePod, a smart speaker recently launched in the United States, Britain, France, Australia and New Zealand.
This manufacturer invariably sets a single price for most work. No exception and HomePod. Only occasionally will repairs be acceptable: for example, replacing a removable power cable is priced at $ 29, but removing it from the device is not an easy task. Resource 9to5Mac tried to do this and successfully, it should be noted, but with considerable force. Therefore, you don't need to worry about the cable being pulled out of the device due to accidentally touching it with your foot, in addition, the gadget is very weighty, and this gives it additional stability. But you still have to save him from the attacks of pets or small children. In the presence of the listed \It is curious that the new device is not much more expensive, namely 350 dollars. That is, for a person who accidentally dropped and damaged his column, it would be wiser not to give it out for warranty repairs. It's easier to throw out the old one and buy a replacement for it.
The iFixit repair shop also confirms this. Based on the results of the analysis of the device, the experts assigned HomePod maintainability one point out of ten possible on its own resource scale. Apple smart speaker is not suitable for repair in principle. Among the minuses: an incredibly strong adhesive, which makes it difficult to get to the inside of the product without the risk of damage. At the same time, iFixit observers noted the excellent build quality, external protective mesh, as well as the placement and fastening of some structural elements. Inside the HomePod, experts found an Apple A8 processor with 1 GB of RAM and a Toshiba 16 GB flash drive. By the way, another Apple product received a similar assessment – the 13-inch Macbook Pro with TouchBar.
, engadget.com, ifixit.com