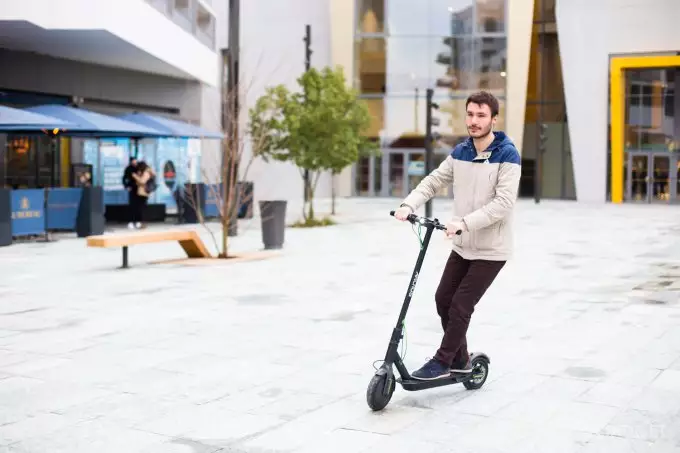 Archos, the manufacturer of mobile devices from France, will present the world's first electric scooter controlled by the Android OS at MWC 2018. Citee Connect devices are equipped with modern Android 8.0 Oreo, in addition, the user will be able to download applications from Google Play.
The Citee Connect model is one of three electric scooter models presented by Archos in Barcelona, and the only one on which the Android operating system is installed. Citee Connect is designed and manufactured in France. The scooter differs little from traditional models. The diameter of the wheels is 8.5 inches, they are protected from punctures, have soft treads that facilitate movement on a difficult surface. Operated by Citee Connect with ergonomic handles. The case is made of lightweight aluminum. The mass of the device is 12 kg, and it is intended for users weighing up to 100 kg. The maximum speed is 25 km / h. There are 3 modes of movement. For convenient storage and carrying, Archos Citee Connect can be folded
The scooter is driven by a 250 W electric motor, which is powered by a 36 V battery. The maximum travel distance in urban environments is up to 22 km. The installed energy recovery (return) system allows you to increase the trip range by 15%, up to almost 25 km. Charging is done with the optional docking station.
The Citee Connect electric scooter is controlled by an electronic system based on a 4-core processor, 1 GB of RAM and 8 GB of internal memory, a 3G modem and Android 8.0 Oreo OS. The control system has a 5-inch display, protected from moisture and shock. The screen shows the distance traveled, battery level and speed. Applications such as terrain maps can be installed on the control device. A special application also controls the lock integrated in the scooter chassis.
Also at the MWC 2018, Archos will introduce the Citee Power electric scooter without an Android control system, but with similar Citee Connect specifications. The third model of the electric scooter will be equipped with wheels reduced to 8 inches and a battery with a lower charge. The cost of scooters without Android will be from € 399.99, they will go on sale in April. Archos Citee Connect will start selling in the summer of 2018 at a price of € 499.99.