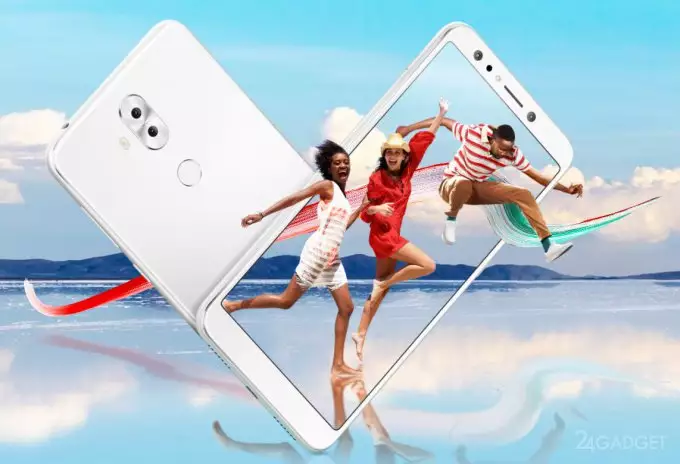 In Russia, new ASUS Zenfone models with thin frames are on sale, however, while only two versions are simpler – Zenfone 5 and Zenfone 5 Lite. The first smartphone is endowed with a 6.2-inch Full HD + display with an aspect ratio of 19: 9, a \A new-fashioned apple chip can adapt to the usage scenario, for example, it is masked so as not to interfere with viewing the video in horizontal mode.
The main camera is 12 megapixel with a Sony IMX363 sensor (1.4 microns, f / 1.8, wide angle of 120 °, optical and electronic image stabilization, support for the RAW format), front – at 8 megapixels. The lineup uses the Qualcomm Snapdragon 636 processor for the first time. RAM – 4 or 6 GB, built-in – 64 GB. Battery capacity is 3300 mAh. NFC chip, stereo speakers, fingerprint and face unlock available.
Zenfone 5 Lite is a budget version of the base model, but it boasts a number of advantages. The Lite version has as many as two dual wide-angle cameras at 120 ° – the front 20 MP with a Sony IMX376 sensor and the main 16 MP. The screen aspect ratio is more familiar 18: 9, Full HD + resolution (2160 × 1080 pixels). The device is equipped with a new Qualcomm Snapdragon 630 processor, 4 GB of RAM and 32/64 GB of internal memory, the battery is the same as that of the Zenfone 5. Lite version is released with support for unlocking the face and fingerprint and NFC-module. There are 3 slots in the model: two for SIM cards and one for microSD.
The main advantage of the line is the use of artificial intelligence in almost all functions: real-time photo enhancement, automatic selection of settings, change in ringer volume depending on the environment, smart charging. All smartphones of the latest Zenfone line work on the ZenUI 5.0 shell based on the Android 8.0 Oreo OS.
ZenFone 5Z, the most advanced version, has not yet been introduced, but promise to do so by the end of June. The main difference between the model will be the use of the top processor Snapdragon 845. There will also be more RAM – 8 GB. Of the functions, optical image stabilization has been added, and the face recognition scanner will come from the Lite version. The design is the same as the base model. Smartphones went on sale at a price of 27,990 rubles for ASUS Zenfone 5 and 21,900 rubles for Zenfone 5 Lite in versions 4 + 64 GB.