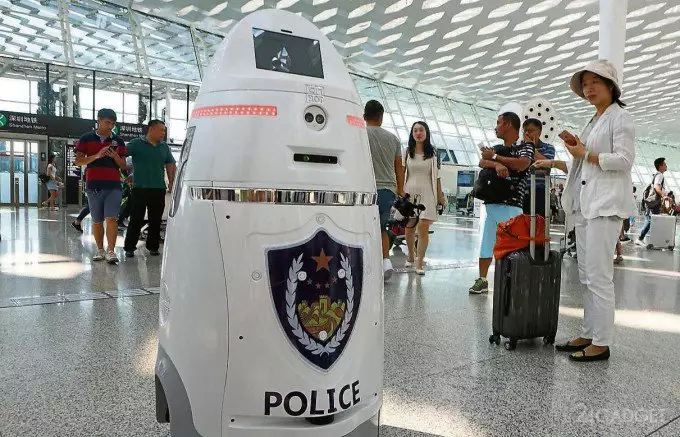 Anbot Robot Police Officer has been hired at Bao'an China International Airport, located in Shenzhen. Its functions include patrolling the territory and working with visitors to inform about flights. To protect and pacify violators of the order or suspicious individuals, the local robocop is equipped with a stun gun.
AnBot is the brainchild of the National Defense University of the People's Liberation Army of China and was first demonstrated in April this year. Despite its awkward egg-like appearance, the robot is smart enough, and therefore its appearance should not mislead others that they have a tin with limited functionality. AnBot determines the threat with the help of the Chinese Tianhe-2 supercomputer, which provides a cloud service that analyzes the information received from robots. This solution allows you to process a huge amount of data in a short time, which would be difficult to do if the \Note that Tianhe-2 (Milky Way-2) for three years, starting in 2013, was recognized as the most powerful computer in the world and only this year another Chinese supercomputer "Sunway TaihuLight" replaced it from the pedestal.
AnBot is one and a half meters tall, weighs 78 kilograms, four high-resolution cameras for recognizing people and the situation, as well as a touch screen with which citizens can call a law enforcement representative by pressing the visual SOS button. The stun gun is activated only if necessary and only by the operator in manual control mode (information about suspicious passengers is transmitted to the airport security service). The robot is capable of speeds up to 18 km / h, but in patrol mode its movement does not exceed 1 km / h. The battery lasts for 8 hours. While the robot guard operates only at the airport, but in the future the scope of its application will expand. How much will it cost to rent an hour AnBot is not reported.