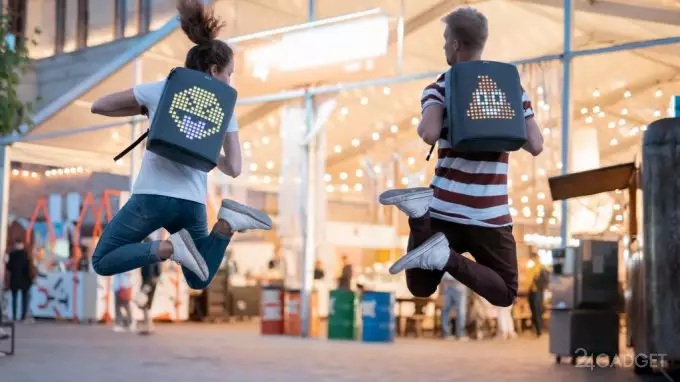 Backpacks with LED inserts are not new, but in everyday life they are rarely found among passers-by or friends. The PIX backpack may have a chance to break through to young people who strive with their whole being to stand out from the crowd and be unique bright fashionable.
The moisture-proof knapsack on the external surface has a built-in LED display with a resolution of 16×20 pixels, capable of displaying pictures in 16.5 million colors. The output of text, drawing, animation, or even a game like Tetris is performed through a mobile application. You can see the LED image in the dark, and during the day.
If there is an additional bicycle accessory that allows you to display arrows indicating the turns of the cyclist on the road, to inform other road users about the intentions of the rider on two-wheeled vehicles.
Inside the backpack you can easily fit all the necessary gadgets and related items, including a laptop, tablet, chargers, your favorite magazine and a container with liquid.
There is an entertaining PIX LED backpack, though not so little – $ 264, taking into account delivery to Russia. The developers promise to send the order in January 2019.