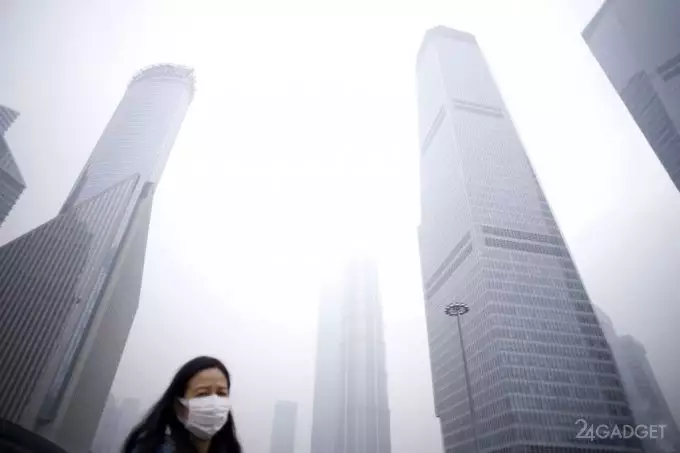 Residents of megalopolises know firsthand what this smog did. But it's one thing to breathe air filled with automobile exhausts and industrial emissions, and it's quite another to see such a metropolis as Beijing, barely visible from a bird's eye view through the gray veil of smog.
The growing prosperity of the Chinese inevitably led to the appearance on the streets of Chinese cities of an increasing number of cars and, as a result, more and more air pollution. The World Health Organization (WHO) has long developed standards for maximum permissible air pollution, when it becomes not the breath of life, but threatens asphyxiation. December 22, 2015, this level was exceeded in Beijing by 25 times! A photo of the city, covered with a dense layer of smog, went around all the world media, and for the Chinese authorities the red danger level was a signal to develop a whole system of measures to improve the airspace of the capital and major cities of the country.
One of such measures was that only electric cars will be used as new taxis in Beijing. Moreover, the entire metropolitan taxi fleet, which is no less than about 70 thousand cars, will be gradually replaced by cars with electric motors. This, of course, will cost a pretty penny, or rather, according to preliminary estimates, at $ 1.3 billion, not to mention the increase in the number of charging stations in the capital of China. And although the electric car costs almost twice as much as an ordinary car of the same class with an internal combustion engine, the authorities are determined to adhere to the intended course. However, this is unlikely to help radically change the situation with smog, since the main contribution to it comes from the numerous factories located in the city and polluting its atmosphere with its emissions. However, the solution to the smog problem cannot be postponed, since the health status of citizens, including children born under such conditions, sharply worsened. There is a decrease in immunity in the population of Beijing and other large industrial centers, an increase in the number of deaths suffering from diseases of the cardiovascular and respiratory system, and just older people.
The most extravagant projects are offered to clean the city air. For example, Dan Rosgard, a designer from the Netherlands, developed and introduced a giant air filter for cleaning the urban atmosphere, capable of cleaning up to 30 thousand cubic meters of air per hour. A creative approach was manifested here: the smog particles that will settle on the filter, the developer proposed to use to create jewelry.