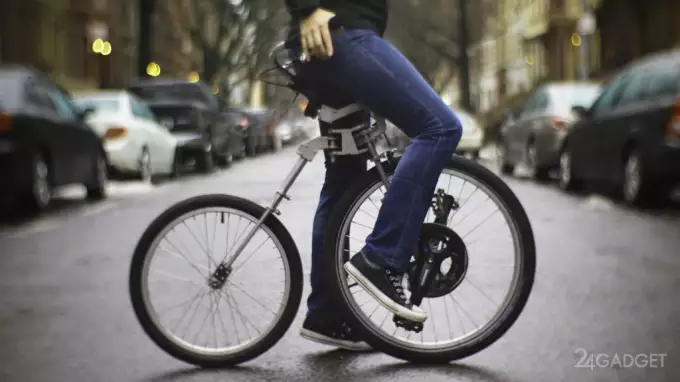 Despite the proverb known since childhood, many inventors are still working on the construction of a bicycle. At times, projects of this kind turn into something truly curious. These include Bellcycles.
They deliver the original bike disassembled, you have to assemble it yourself. They created it on the basis of a modified monowheel, providing it with a modular design, which allows you to add an electric motor, an axle at the back with a pair of small wheels, and a trolley for transporting goods as needed.
Similar to the unicycle, the Bellcycles have pedals directly on the wheel. They were equipped with a chain drive. The bicycle wheel was behind the saddle. So the hands can be in a more natural position for them. Also, the device is equipped with a movable hinge that is placed on the rear wheel fork and gives additional maneuverability.
Being much more compact than the usual bike, Bellcycles requires less space. If necessary, it can be supplemented with an electromotor module, purchased separately. So the device will turn into an electric bike. However, having the usual pedal drive, it will give the owner joy, and will make passers-by look around.
The novelty is already available on Kickstarter for $ 349. They will start delivering it at the beginning of the summer of this year.