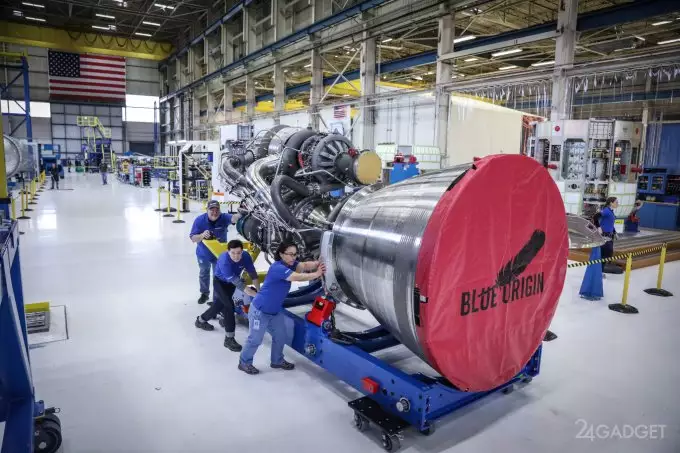 Aerospace company Blue Origin, specializing in space development, has introduced a new power unit for reusable rockets. The engine is called the BE-4, it is designed to launch the New Glenn heavy-class launch vehicle, which is currently being manufactured, and design and assembly work began six years ago. Now Blue Origin management has presented the results of a large-scale project: the engine is ready for use. A photo of the unit has already appeared on the Internet, it was posted on its page on the social network \In the near future it is planned to release several copies of the engine.
The New Glenn rocket, which will consist of the first stage returning to Earth, belongs to the heavy class, it is planned to be tested in the next three years. It is designed to carry heavy loads and passengers. In terms of size, it can only be compared with Saturn-5 – the NASA rocket, which was used until the early 70s of the last century.
New Glenn received a 7-meter diameter, its height is 95 meters with two steps and 82 meters with one. A rocket with one step will be used to launch satellites into Earth's orbit and organize voyages for cosmotourists, with two – to deliver cargo. Although the New Glenn test launch is scheduled for the end of the current decade, Blue Origin specialists have not yet begun assembling it. Moreover, a plant was not even built at which it will be conducted. However, the company's management plans are quite ambitious. In particular, already at the beginning of the next decade, with the help of a new "heavyweight", they intend to launch the device with the Blue Moon landing module on the moon. His mission is the installation of a solar-powered power plant and a hydrogen production system at the South Pole of the Moon (near Shackleton Crater). Currently, the \The country's leadership set the task: to organize the delivery of passengers and cargo to the Earth satellite. Several commercial companies undertook to carry it out, among them SpaceX, which promises to implement this project as early as next year.