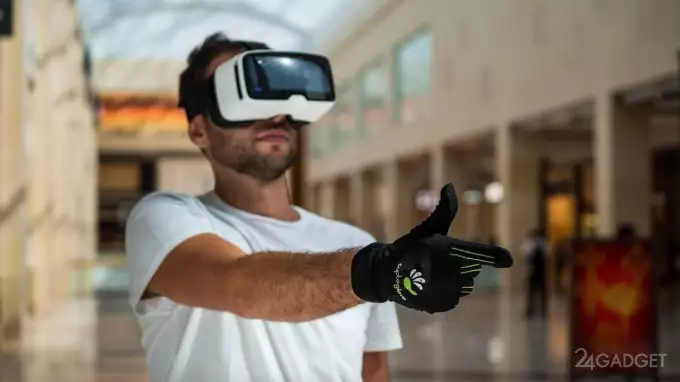 CaptoGlove is a universal wireless glove-controller that allows you to control your PC, many mobile gadgets and even drones with a light hand movement. All that is required of the user is to connect the gadget to the main device and make certain finger gestures.
The presented glove-controller is an extremely promising development for use in virtual reality, in particular, in computer games, 3D-modeling, control of drones and even in a rather serious field – training on simulators during training.
The glove is powered by a lithium-ion battery and is able to work continuously for 10 hours. It has removable sensors, with which it can be connected to the appropriate platform, including mobile, on iOS and Android.
In general, the compatibility capabilities of the miracle gloves are unusually wide: here are games that support the gamepad, as well as all virtual reality headsets that currently exist.
When used on desktop systems, the glove can simultaneously function as a keyboard and mouse, and if you use two gloves on the simulator at once, the feeling of reality will become even more believable. For example, on a helicopter simulator, with one hand it will be possible to control the machine, and with the other – switch the desired toggle switches on the control panel.
And in three-dimensional shooters, any actions with weapons on the monitor simply repeat every movement of the user's fingers. Naturally, the information about the universal glove-controller aroused great interest of future users, despite the considerable cost ($ 250). Its appearance on the market is expected in June this year.