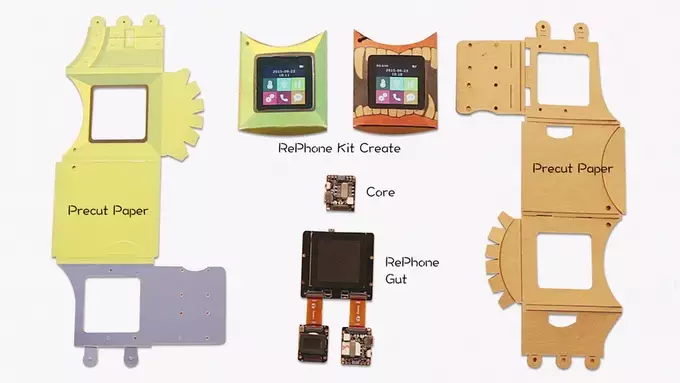 The development of a modular smartphone with the ability to upgrade its individual components is carried out not only by the giant of the mobile industry represented by Google (Project Ara project), but also by small firms (Fairphone). Now the Chinese team Seed Studio has got into this company with its startup RePhone – the world's first modular mobile phone on an open-source software platform. Thanks to the Kickstarter portal, a fundraising company has been organized to launch the mass production of components from which it will eventually be possible to assemble RePhone for every taste. The authors of the project will offer potential buyers 3 basic sets: RePhone Core Module GSM + BLE, RePhone Core Module 3G and RePhone kit Create. Development allows the user to assemble a fully operational telephone in minutes. The components are easily connected, and then placed in a housing that can be cut out of cardboard, which allows each user to create their own unique shape machine.
The basic component of the phone can be the RePhone Core Module GSM + BLE module, which includes a miniature SoC platform for wearable electronics along with built-in GSM and Bluetooth modules. The RePhone Core Module 3G set is almost the same single-chip system, but provides the user with the advantages of working with third-generation networks (3G mobile technology). RePhone kit Create, in turn, is a ready-made kit that allows you to assemble a fully functional mobile phone with your own hands without purchasing additional modules. The default kit includes: a 1.54-inch touchscreen display, an audio module, and a power module with a 520 mAh battery. Also, the customer of RePhone kit Create will receive a cardboard sheet with a slit under the screen, which will serve as a housing for the phone.
In addition, Seed Studio offers everyone interested in a modular phone to complicate the design by adding modules with various sensors, GPS, NFC-chip, LED-indicator, connecting them to the head chip (RePhone Core Module) using FPC-cables or standard wires.
The creators of RePhone focus on an open source software platform that supports javascript, Lua and Arduino IDE, Lua, javascript, which allows you to synchronize your phone with an Arduino-based computer or with the Pebble Time wearable gadget without any additional manipulations.
The base cost of the main component – RePhone Core Module GSM + BLE – at the pre-order stage is $ 12, however, the retail price of the module after the end of the fundraising campaign will be $ 19. RePhone Core Module 3G is still available for $ 29. The pricing of the remaining components is shown in the image below: