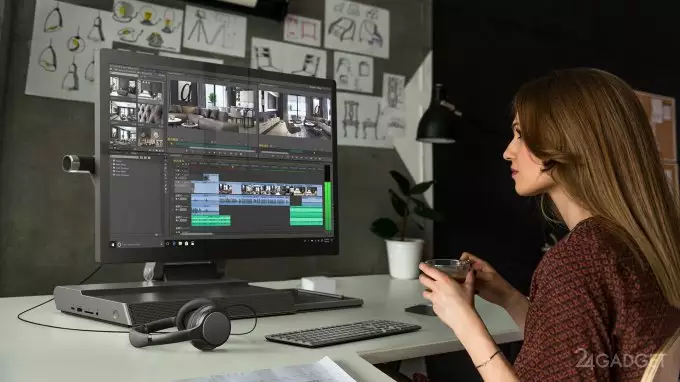 Lenovo introduced at CES 2019 an updated line of Yoga laptops that can compete with the best devices from leading companies in the world, as well as the Yoga A940 all-in-one with a focus on people with creative professions.
Lenovo Yoga S940, a traditional laptop from the Yoga line, features a super slim 13.9-inch IPS display. Depending on customer requirements, it can be delivered with Full HD and 4K Ultra HD resolution. Similar to smartphone screens, the 2.5D Contour Glass is slightly curved around the edges.
The developers paid special attention to artificial intelligence. If contact with the user's face and eyes is lost, the device's screen is locked (using a web camera that supports Windows Hello functionality). The Lenovo Smart Assist function allows you to determine that there is an outsider watching the screen behind the user's back. Intelligent power management is provided to extend battery life. Amazon Alexa and Cortana respond only to the voice of the owners.
The hardware of the Yoga S940 is represented by an 8th generation Intel Core processor Core i7 (Whiskey Lake). Hard disk capacity can reach 1 TB, and RAM – 8 or 16 GB, depending on configuration. Battery life: 15 hours for Full HD monitors and 9.5 hours for 4K resolution screens. There is a USB Type-C port, two Thunderbolt 3 and a 3.5 mm jack. The weight of the laptop is 1.2 kg, the thickness is 12.2 mm. Starting price starts at $ 1,500. To recognize laptops with a rotating screen, the model is indexed by the letter "C". Notebook Lenovo Yoga C730 is equipped with a 15.6-inch AMOLED-screen with Ultra HD-resolution 3840×2160, capable of fully rotate around its axis. The hardware is represented by the Intel Whiskey Lake processor, RAM up to 16 GB and SSD up to 512 GB. Security is provided by the fingerprint scanner. There are 2 USB Type-C ports, one Thunderbolt 3, HDMI, JBL speakers with Dolby Atmos support and a mini-jack. There is a stylus with recognition of 4096 degrees of depression. Autonomous operation of the device does not exceed 8 hours. The price of the device starts from 1700 US dollars.
Monoblock Lenovo Yoga A940 is designed for professionals, but the price is significantly inferior to that of Microsoft Surface Studio 2. The touch screen has a diagonal of 27 inches and is located at an angle of 25 degrees to the horizontal surface, which allows you to comfortably use the stylus. There are two models with QHD and UHD screens. For control, a Precious Dial manipulator with a wired connection via a USB port is used. The accessory received an LED indication of the running program. While the device supports only Adobe and Microsoft applications, but there are a lot of them.
For comfortable work and space saving Lenovo Yoga A940 has an ergonomic design. At the base you can store the keyboard, there is a platform for wireless charging smartphones and a place for a stylus. The hardware is represented by Intel Core i7 chips and an AMD Radeon RX 560 GPU, up to 32 GB of RAM, 1 or 2 TB hard drive and up to 512 GB SSD. There are also: 4 full-sized USB 3.0, 2xUSB 2.0, 1xUSB-C 3.1, Thunderbolt 3, an SD card reader, a Windows Hello webcam, a 5-speaker audio system with Dolby Atmos surround sound technology, a 3.5 mm jack and an Ethernet port.
Lenovo Yoga A940 will be officially released in March, and the device will cost $ 2,350. It is worth noting that the price of Microsoft monoblock is 3500 US dollars. , windowscentral.com, slashgear.com