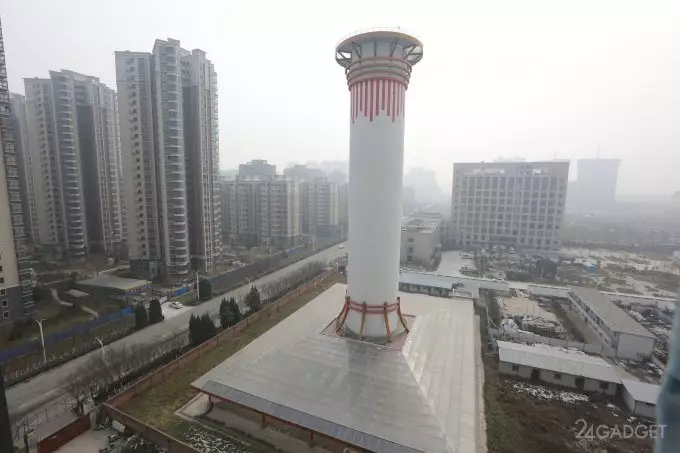 The environmental problem in China is rampant. A 100-meter cleaning tower undergoing test trials can help solve the difficult task of air purification. During the experimental tests, the installation showed unique results, reducing air pollution from unhealthy PM2.5 microparticles by 15% in just three months of operation in an area of 10 km2. At the same time, Xian smog tower was able to process up to 10 million m3 of air per day.
Over the past few decades, China's accelerated industrial development and neglect of environmental issues have put the country on the brink of environmental disaster. In January last year, smog was declared a "red level" in major cities of China. Recognizing the irreparable harm to the population and the environment, the Chinese government launched several nationwide programs to quickly get out of a difficult situation. 40% of coal-fired thermal power plants were closed, and many enterprises with hazardous atmospheric emissions were shut down. Manufacturers and owners of electric vehicles are stimulated. Testing the tower Xian smog tower was one of the steps to clear cities of smog.
The air purification process of the Xian smog tower is divided into the following steps. First, air is taken from the atmosphere and transported to nearby thermal stations. Here, with the help of electricity received from solar panels, dirty air is heated to a high temperature. Then, the heated air returns to the tower, where it passes through five stages of purification and only then enters the atmosphere again.The final test results of the test installation will be announced in March 2018. If the government is satisfied with the performance indicators of the cleaning tower, a whole network of such plants can be created in China. The size of the cleaning towers will vary depending on the location and size of the cities. In some places, the height of the tower can reach 500 meters with a diameter of up to 200 m.