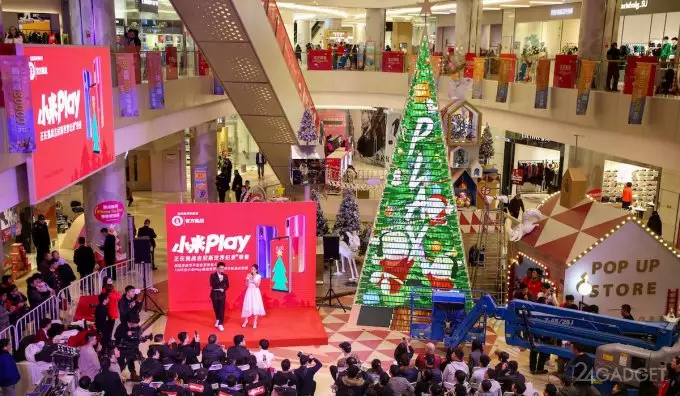 Thanks to the huge animated mosaic of smartphones, Xiaomi was in the Guinness Book of Records. The manufacturer decided to put out of 1005 brand new Mi Play not a boring wall in the shape of a rectangle, but a merry Christmas tree about 8 meters high.
Xiaomi head and co-founder Lei Jun noted that they were preparing for the record for two weeks. It was required not only to connect all the devices into a single whole, but also to completely synchronize the images. After all, the naked eye will notice a delay of even 0.04 seconds.
A Christmas tree was installed in one of the Beijing shopping centers. It began to be built on December 24 at 4 a.m. local time, and was completed only at 4 p.m. Smartphones even handed out fast free internet to visitors. So on the eve of Catholic Christmas, the largest access point in Beijing was also created.
Note that in the summer, Asus created an original installation of 1,139 ZenFone 5 smartphones, which would help it get into the Guinness Book of Records. But the manufacturer missed such a chance, but in vain., Itw01.com