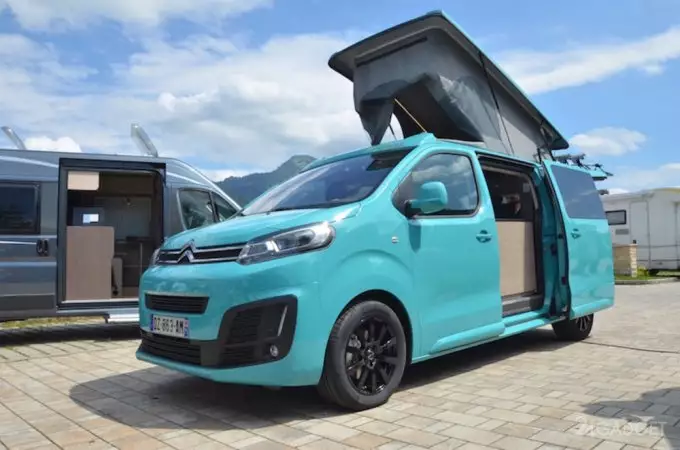 Citroen has always been able to make cars that attract people's attention. And now, the engineers of this manufacturer in cooperation with the German company Possl plan to win the hearts of travelers with a cozy camper – the new Campster van.
In order for the car owner to be able to quickly change the specialization of the passenger compartment, the van uses a semi-integrated system. Due to this, in a short time period, you can adapt the car for a tourist trip or transportation of goods. All the constructions in the cabin, say, a sink or cabinets, are rearranged, and as a result the car turns into a 7-seater van, a truck for two people, or a camper for four seats.
Campster is positioned as a simple and comfortable car for tourism lovers. It should be noted that he copes with his task superbly. If you fold the back seat, then there is a place for a double mattress. On the roof of the car you can install a tent in which two more people can easily accommodate. Note that the tent unfolds if you raise the roof.
A removable table is located between the seats, which easily turn to it and eating becomes more convenient. In addition, in the cabin of the new Citroen you can find lockers, a gas stove, a sink and a refrigerator. The initial cost of the Campster, equipped with a 1.6-liter power plant for 94 \A car with a more powerful engine (two-liter capacity for 178 "horses") will cost the buyer about € 43 thousand.