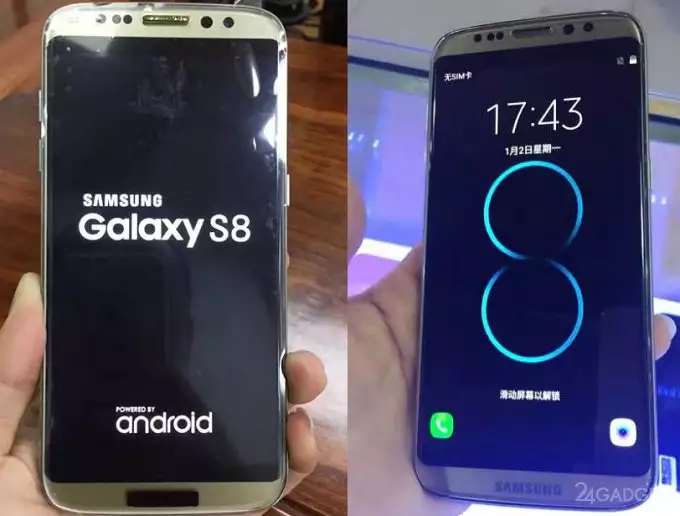 A large number of photos, renders and videos of the future flagship smartphone Samsung Galaxy S8, which has recently flooded the Internet, pushed the discerning Chinese to release his clone, without even waiting for the official presentation of the Korean novelty. Apparently, the patience of entrepreneurs in the Middle Kingdom burst after, due to delays in the production of new processors, Samsung once again delayed the start of sales of flagship mobile devices (now already at the end of April 2017).
Judging by the photos, the clone case repeats the appearance of the alleged original, however it is excessively thick, and the "obsolete" micro-USB connector flaunts on the bottom edge. There is also no new button for calling the Bixby voice assistant (although this innovation will be available only in certain regions of the world for now), and the black dots at the front camera are a props that do not carry any load that is useful to the user. The iris scanner is also not installed here. At the same time, the Samsung logo flaunts on two panels at once – this should probably convince the doubting buyer of the authenticity of the proposed device.
I want to believe that there are no people who want to buy a fake from Chinese Internet sites. Because there is nothing here from the Samsung Galaxy S8, except for a hint of external resemblance – neither a quality edge-to-edge screen, nor high-tech cameras, nor a quick fingerprint scanner that looks like a foreign element on a clone (judging by photo and video) is even located on the wrong side. How much the Chinese Galaxy S8 will be offered is not specified.