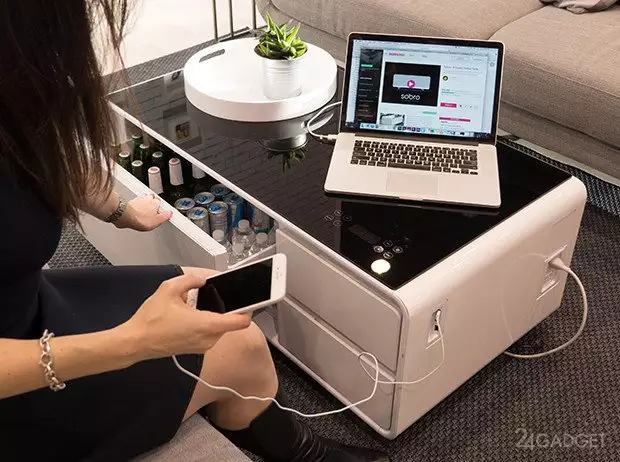 Some products do not have a place in the general refrigerator. For example, while watching your favorite movie or a match on TV, it is better to keep all bottles of cold drinks "at hand", as they say, so as not to distract yourself or others when you go to the kitchen. The Sobro Hybrid Coffee Table just meets this requirement. One of its three compartments is a mini-refrigerator with a full-fledged compressor and the ability to adjust the temperature from 3 ° C to 5 ° C using the tabletop touch panel. The remaining boxes can be used to store anything.
The panel also has a volume control for music played through the built-in speakers and, most importantly, the smart tabletop is protected from spilled liquids by tempered glass. There are also USB ports for recharging mobile gadgets and a Bluetooth module for connecting to various devices. For example, developers plan to add the ability to work with TVs.
Sobro is decorated with LED lights placed around the base of the hybrid table. Smart furniture will, of course, require a network connection.
Now at Indiegogo, a hybrid coffee table is offered for $ 499, after the campaign is over the cost will triple to $ 1,500. The financing of the project is successful, the first deliveries to customers are scheduled for September this year.