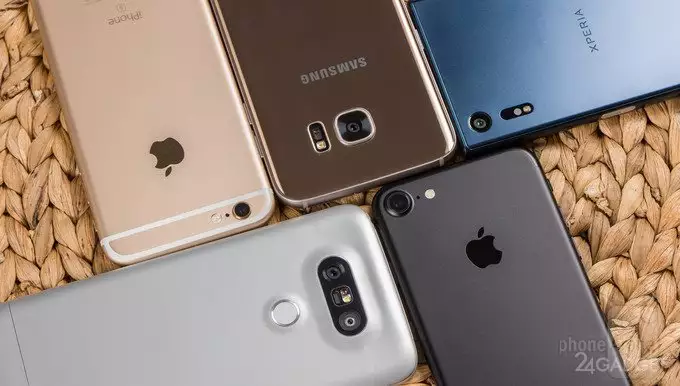 Nowadays, a modern user without a smartphone is rarely seen. And where is the mobile device, there is a camera. Considering the capabilities of ordinary devices is not as interesting as the flagships in which manufacturers seek to install the best sensors and software. With the advent of the iPhone 7 from one of the most powerful players on the market, this process has become especially exciting. Online journalists decided to conduct a comparative analysis of the photographic abilities of some of the most powerful players in the flagship segment: iPhone 7, iPhone 6s, Samsung Galaxy S7 Edge, LG G5 and Sony Xperia XZ. You can read more about the results. Smartphone camera specifications:
Scene 1: architecture
The image of the Samsung Galaxy S7 Edge turned out to be brighter and more vibrant, with sharpness and saturation it is also all right, which allowed the Korean flagship to become a favorite. Also pleased with the pictures from the iPhone 7 and LG G5. although they are not as bright as the Galaxy S7 Edge, but the shades of green are conveyed more naturally. The iPhone 6s and Sony Xperia XZ, however, show a gap in sharpness and exposure level, especially in shaded areas.
Scene 2: macro shots of
The leaders in the macro shot turned out to be iPhone 7 and iPhone 6s, which were more color-wise. And the Samsung Galaxy S7 Edge camera, apparently, is not adapted for this type of shooting. The image shows a discrepancy in the white balance, due to which the image acquired an unnatural green color. Xperia XZ sins the same flaw, albeit to a lesser extent. LG G5 has already done a much better job, having managed to set the white balance correctly – yellow and green colors look more natural.
Scene 3: the landscape
In this case, the LG G5 camera did its best to get the picture right and the color was right. A detailed examination of the fragment highlights higher detail with a minimum amount of digital noise, as well as natural colors in the frame, without deviation towards cold or warm colors. The Samsung Galaxy S7 Edge did a little worse, but it captivates sharpness and rich colors. The Sony Xperia XZ camera captured more light, but a large amount of noise throughout the frame spoils the overall impression when studying a picture from close range. Good light and the correct color rendition can be entered into the asset of the iPhone 7 and iPhone 6s, but the photos turned out darker than the others, this is especially noticeable in the "six". Images from the iPhone 7 and iPhone 6s look good, but inferior to the result of the G5 and Galaxy S7 Edge due to the fact that the pictures turned out to be dark, especially to the iPhone 6s.