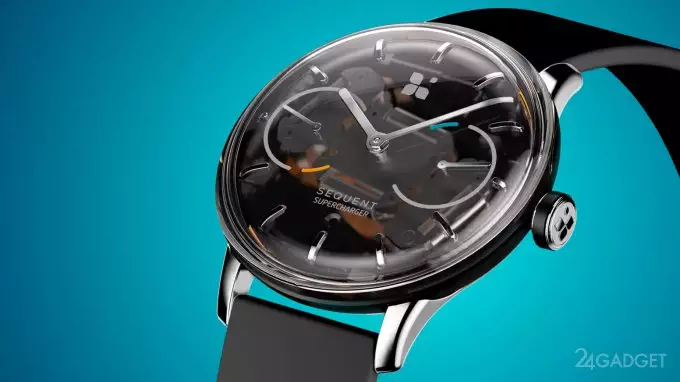 The manufacturers of famous Swiss watches do not cease to amaze the world with the constant improvement of their products. And now the development of Sequent smart watches has been announced, the charging of which is provided only by the movement of the wrist. Thus, the battery life is practically unlimited. The idea of automatic winding is not new. It has been implemented for quite some time in a traditional watch, but in a Sequent smart watch, the spring has been replaced by a miniature generator capable of converting load fluctuations into electricity. When the clock runs out, they simply go into energy-saving mode: this means disabling all additional functions until the built-in generator starts to replenish energy.
An analog dial is used to minimize power consumption in the gadget. A separate arrow shows the charge level. Notifications are displayed using the LED. A pedometer, heart rate monitor and GPS module are also available. Bluetooth 4.2 allows you to synchronize your device with the mobile application on your smartphone.
The case with a thickness of almost 15 mm is made in two versions: stainless steel or hypoallergenic plastic (in the budget model). The standard thickness strap (22 mm) is available in several versions: leather, nylon or elastic material.
Sequent starts at $ 200. A limited edition with a transparent dial for $ 300 is also offered. Eternal smart watches should appear on sale at the end of this year, but their retail price will already be much higher – from $ 440.