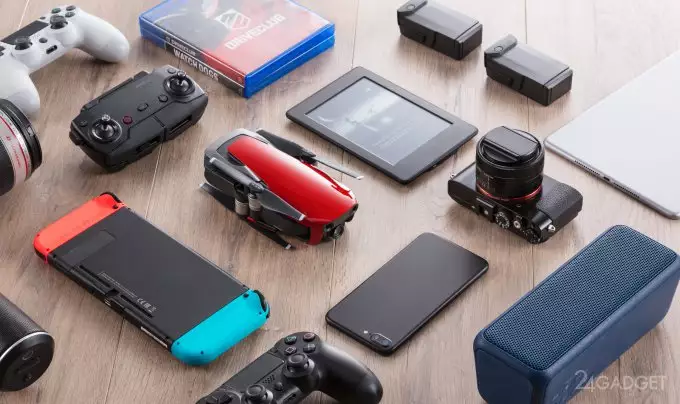 DJI, the world leader in the market for unmanned aerial vehicles, introduced the new folding drone Mavic Air. The device received a modified gesture control system and can carry out UHD video recording in 4K resolution with a frequency of 30 frames per second at a bitrate of 100 Mbps.
The cost and technical parameters of the Mavic Air suggest that in the DJI line of drones it will take place between the Spark and Mavic Pro models. The new quadrocopter is almost 2 times smaller in size than the more expensive Mavic Pro, and at the same time it is still 41% lighter than its older brother. The quality and resolution of video shooting are approximately the same for both devices, only the Mavic Pro has a longer flight time (27 minutes versus 21 minutes at a speed of 25 km / h, with Spark this indicator is 16 minutes). But DJI Mavic Air can fit in your pocket, and the Pro version is difficult. The novelty develops a speed of up to 68.4 km / h in sport mode (while obstacles are not tracked) and accelerates to 28.8 km / h in normal conditions. DJI Mavic Air is able to rise to a height of 5 km and fly a distance of 10 km into calm.
The quadcopter will come in several colors. A 12 megapixel camera with a three-axis stabilization gimbal includes a 1 / 2.3-inch CMOS sensor and a 24 mm lens (equivalent to 35 mm) with an f / 2.8 aperture. In addition to video recording in 4K format, a slow-motion function is available at a speed of 120 frames per second in Full HD resolution. The quadrocopter provides the ability to record a 180-degree image of 21 photos, a spherical panorama of 25 frames and HDR photos.
So look official photos taken with a novelty:
And Video: Mavic Air endowed with 8 GB of internal memory with expandable memory using the microSD, and to work with computers provided connector USB Type-C. 8caa42f5a9df53968033bf99609e44f68caa42f5a9df53968033bf99609e44f68caa42f5a9df53968033bf99609e44f68caa42f5a9df53968033bf99609e44f68caa42f5a9df53968033bf99609e44f68caa42f5a9df53968033bf99609e44f68caa42f5a9df53968033bf99609e44f68caa42f5a9df53968033bf99609e44f68caa42f5a9df53968033bf99609e44f68caa42f5a9df53968033bf99609e44f68caa42f5a9df53968033bf99609e44f68caa42f5a9df53968033bf99609e44f6