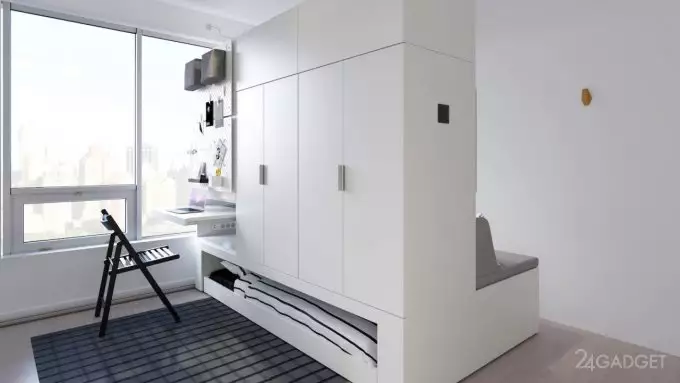 Following the modern fashion in the arrangement of residential premises, people tend to pay attention not so much to the design and decoration of their homes, but to the maximum functionality of furniture designs and other interior elements. This is especially true for owners of those living quarters (apartments and houses), the area of which is small and its effective use is worth some effort and ingenuity.
The new product from IKEA is called to help the owners of such apartments in their arrangement. This is a joint work of IKEA with the American startup Ori Living. The robotic furniture system called Rognan is designed specifically for people who want to provide convenient and comfortable living for their family even in their small residential premises.
The Rognan furniture unit is controlled via the touch panel. It has a bed, a desk and a sofa, which has its own program: it is put forward if necessary, can move around the room and divide the space into two zones. The Ori robotic platform and the IKEA Platsa series furniture in the complex ensure the functioning of this system. It is possible to combine it with the range of intelligent lighting cabinets and wardrobes Trakeri. The manufacturer's calculations show that the new creation of the company can save eight square meters of living space, which is quite noticeable for small-sized housing.
IKEA product developer Shona Stroun explained the principle of the design approach to creating the Rognan Furniture block: "Instead of making furniture smaller, we transform it into a function that you need at a certain time. When you sleep, you don't need a sofa, when you use a wardrobe, you don't need a bed. "Already in 2020, the Rognan system will go on sale, however, at first it can only be bought in Hong Kong and Japan. The price of a robotic furniture unit has not yet been determined.