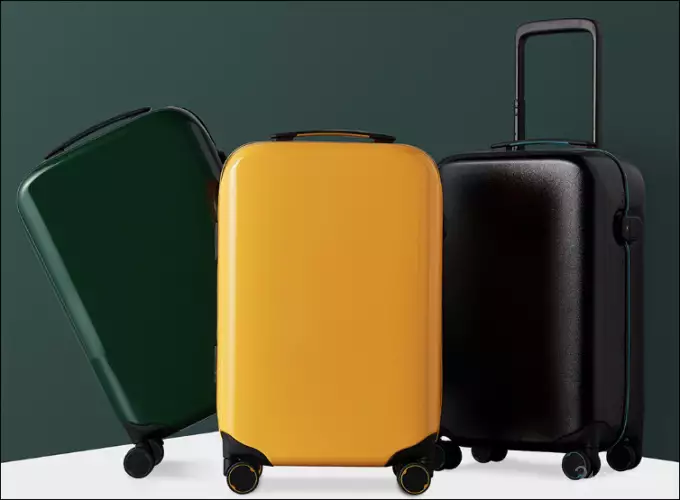 Do you know that the Chinese electronic brand Xiaomi is more than just a company that produces smartphones, tablets and televisions? The consumer electronics giant also offers a range of smart home devices such as webcams, air purifiers, smart scales, robotic vacuum cleaners, and more. One of his latest releases is the 31-liter Smart Unlock Suitcase Smart Suitcase with a fingerprint scanner.
Click on images to view animation There are a number of reasons why this suitcase has risen to first place in the travel wish list. The suitcase is made of an aluminum alloy of the 6000th series, on top is covered with a three-layer Makrolon material from the German brand Bayer. This is a special class of polycarbonate, which withstands temperatures from -110 ° С to + 120 ° С, is resistant to water and mechanical damage, which means that even frequent throwing of a suitcase by aircraft personnel will not deform or disable it. Dimensions of the suitcase – 578x370x215 mm. Extendable handle withstands loads up to 14 kg.
Xiaomi Smart Unlock Suitcase also has a TSA combination lock with a fingerprint scanner. The suitcase remembers up to 5 different fingers. The fingerprint sensor works from ordinary AA batteries, it can also be recharged using a USB cable.
This travel accessory has a Bluetooth 4.0 wireless module that allows you to connect it to any mobile device running Android / iOS. This means that the owner can lock and unlock his suitcase using the Xiaomi SmartHome app. The cost of Xiaomi Smart Unlock Suitcase is $ 146. It can be ordered in three colors: yellow, green and black.