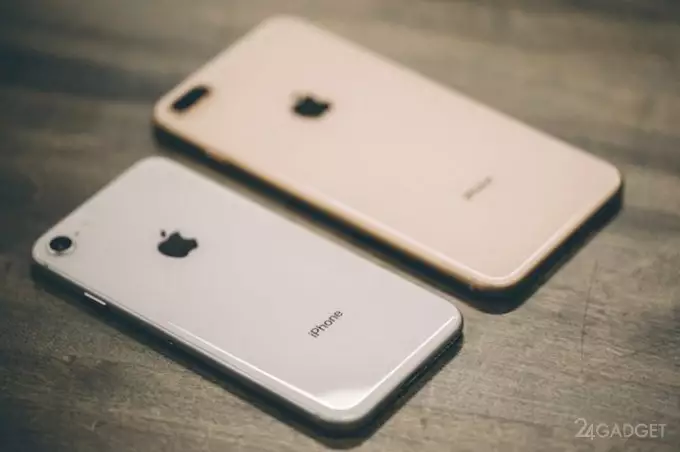 At DxO Labs, a company specializing in professional assessment of video and cameras, they analyzed the recently released iPhone 8 Plus and iPhone 8. The cameras were evaluated by experts using the well-known resource DxOMark developed by the company. As a result of the camera's assessment, the new iPhone took first and second place in the history of testing.
The main camera for both smartphones is based on a 12-megapixel sensor. The iPhone 8 has one f / 1.8 aperture module. Smartphone iPhone 8 Plus is equipped with two 12-megapixel modules with aperture F / 1.8 and F / 2.8, while the device has got double optical zoom and portrait mode, in which you can achieve the effect of blurring the background. According to experts, Portrait Lighting technology allows you to get a pleasant and natural bokeh, which is typical for professional cameras.
Updated sensors compared to the iPhone 7 significantly improve the quality of images in low light, better fight against noise, when shooting in HDR mode, detail and color reproduction are not lost, which is especially seen in the pictures below.
A special effect on DxOMark experts was made by the iPhone 8 Plus, which, when shooting outdoors on a sunny day, produced the most detailed, clear pictures with the most accurate color reproduction.
True, indoors in low light conditions in iPhone 8 Plus shots when using portrait mode there are still too many noises (but less than their predecessor) and low detail. Another disadvantage was autofocus, which even with excellent optical zoom did not always work perfectly.
As a result, testing using the DxOMark resource awarded 92 points to the iPhone 8 and 94 points to the iPhone 8 Plus leader. Recall that the previous leaders of Google Pixel and HTC U11 got 90 points each.
, dxomark.com