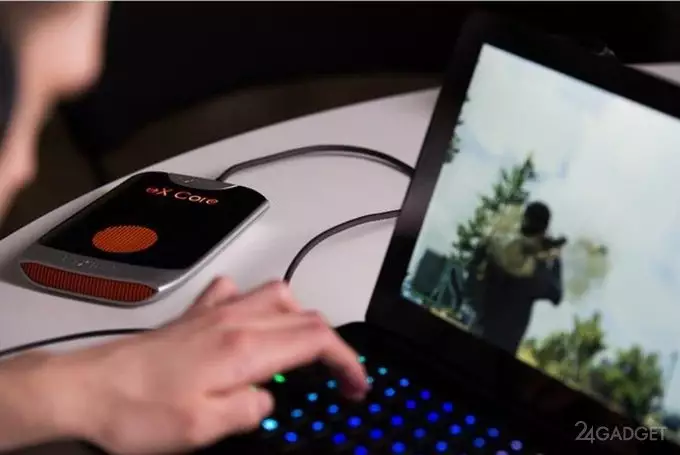 Many recent laptops are too compact to fit a powerful graphics card. But recently high-speed interfaces for data exchange have appeared. Now with external graphics accelerators there is an elegant solution to this problem. They can be taken with you, connecting when you need high performance. eX Core – just such a device.
A small box resembling an external hard drive weighs only 700 grams. However, it hides the graphics accelerator version of the Nvidia GTX 1050, equipped with 4 gigabytes of memory. From the front end there is a modest-sized slice so that the air circulates better. A powerful fan is located on the top panel, which ensures efficient cooling even at maximum performance.
You can connect eX Core to a laptop using the USB-C interface, which not only transfers data, but also feeds the video card. To display the picture on an external display or TV, there is also an additional USB-C and port version HDMI 2.0b. The latter supports 4K resolution at a frequency of 60 hertz.
An external graphics accelerator works with laptops controlled by macOS and Windows 10. In each type of operating system, the gadget itself finds the drivers, so you do not need to configure anything manually.
There are three colors for the eX Core, it can be matched to the laptop case. On Kickstarter, the gadget is offered for $ 399, will deliver the device in the middle of this summer.