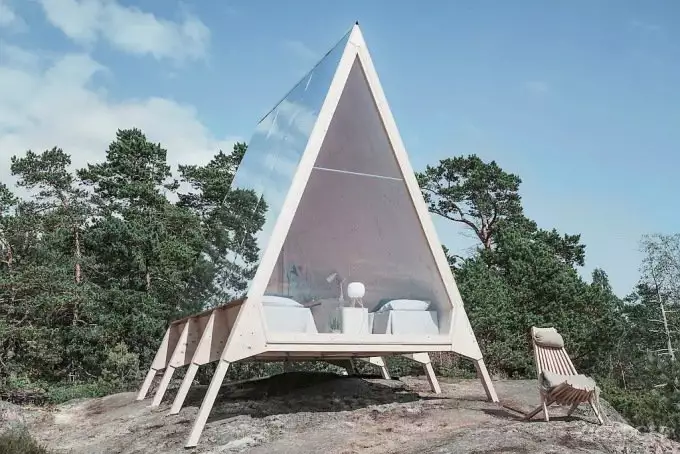 Are giant houses full of things distracting us from nature? This is the key question Neste asks with her ultra-eco-friendly design of the Nolla hut, which was built on a rocky island in Finland, and she is ready to receive visitors.
The work of designer Robin Falk was named after the Finnish word "zero". Nolla is a 9-square-meter wooden hut. m, which can be assembled or disassembled by three people, it is easily mounted and leveled even on bumpy and uneven surfaces, while having an almost zero effect on the environment.
One side of the wall that should point south is covered by a solar panel. The other side has reflective mirror panels that help protect the small house from overheating in the summer. The wood used for the cab is Kerto LVL, a light and strong Finnish plywood, and the large triangular window that forms the whole wall is a polycarbonate material. The small stove used for cooking and heating uses its own biofuel from Neste.
You will notice the lack of a bathroom – Nolle is located next to the recycling station and dry eco-toilets on the island of Wallisaari, near Helsinki. There are also no bathing facilities because the sea is your bath. And there is no Wi-Fi or entertainment equipment, because the outside world is your widescreen TV. Nolle can be thought of as a high-end tent. Currently, the house is rented on AirBnB for 2,284 rubles per day, where it seems to be fully booked in the near future. The designer sees this cabin as a prototype, so we will soon see another version with some improvements.