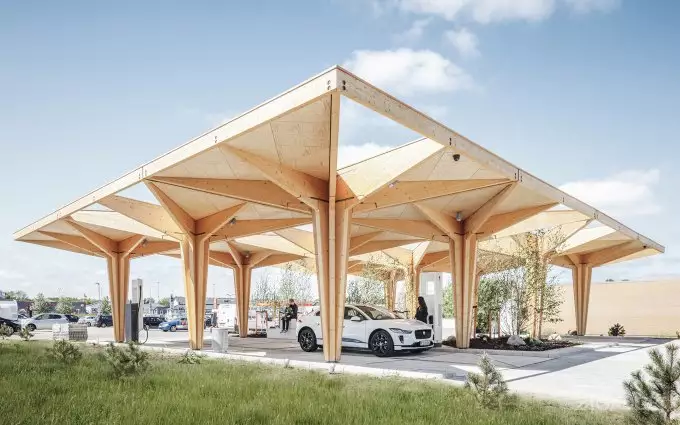 Electric cars occupy a growing segment in the automotive industry, and engineering is already working to create a developed network of modular and autonomous stations for refueling. The first such station was designed and commissioned by engineers at the COBE architectural bureau on a highway in Denmark.
Charging columns with power up to 150 kW are equipped, but power growth up to 350 kW is potentially possible, which will allow charging electric cars supporting such power in the near future in 15 minutes.
The appearance of the new building is striking in its scope and functionality. The design consists of modules resembling trees, with a reinforced concrete core, crowned with a similar peak from the sun. All materials used are environmentally friendly; Designers worked hard to ensure that the aesthetics of the building evoke pleasant feelings and desire for visitors to be serviced at such gas stations, where even a green zone is provided for a comfortable rest for drivers and passengers while charging the battery.
This feature became for Dan Stubbergard, the founder of COBE, a kind of creative for such gas stations. He himself says this about this: "The future is in electric vehicles. We provide electric car drivers with the opportunity to recharge themselves in the center of a green oasis. "Energy and technology are green, so we wanted the architecture and choice of materials to reflect this."
His words confirm that the station receives part of the energy from the solar panels installed on the roof, but so far the share of \, with the goal of building fifty such stations in Denmark, Sweden and Norway. Countries that are currently world leaders in the pace of electrification., Electrive.com