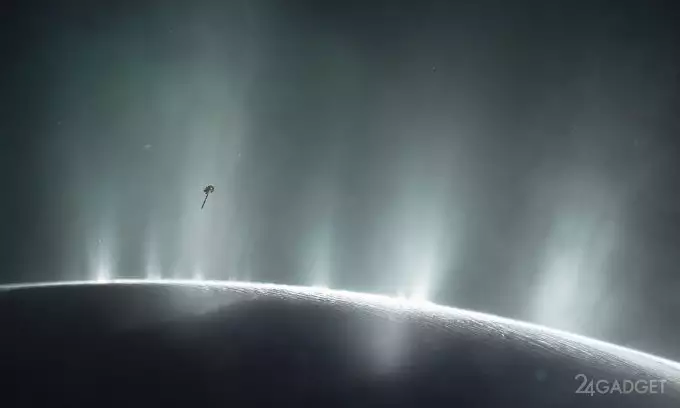 As part of a study by the Cassini space probe of Saturn and its surrounding space on a planetary satellite, Enceladus, scientists discovered hydrogen molecules. Gases emanating from geysers may indicate the existence of extraterrestrial life – or all the conditions for its origin. To make such assumptions the earthly experience allows: as a rule, near active geysers on our planet, specialists find interesting living organisms that have adapted to difficult living conditions.
NASA employees and representatives of the Cornell Center for Astrophysics and Planetary Sciences confirmed the possibility of the existence of a geothermal activity satellite under the ice crust – the result of a chemical reaction of water and minerals, as a result of which hydrogen is formed. The assumption of the presence of water on the planet has been made for a long time, now it has found practical confirmation. The second version, which does not exclude the first, is that under the crust there is a process of methanogenesis obtained from carbon dioxide. Here again, scientists draw parallels with our planet: methane and hydrogen provide food for the simplest microorganisms on Earth. However, the volume of gases found is small.
Recall, NASA has been using the Cassini probe for 13 years to study the planet and its satellites. Samples from Enceladus were collected two years ago, now their analysis has been completed, and specialists continue the study of Saturn. The orbiter will continue to work until the fall of 2017 and will probably have time to make a few more discoveries. In the future, NASA is likely to send specially designed robotic mechanisms to the satellite's surface to study ice cover more thoroughly. Also, cryovolcanoes have been found on Titan (also Saturn's satellite), Triton (Neptune's satellite), Europe and Ganymede (Jupiter's satellites). There is a possibility that such a phenomenon is inherent in Pluto. These space objects are also attractive for studying and searching for forms of extraterrestrial life.