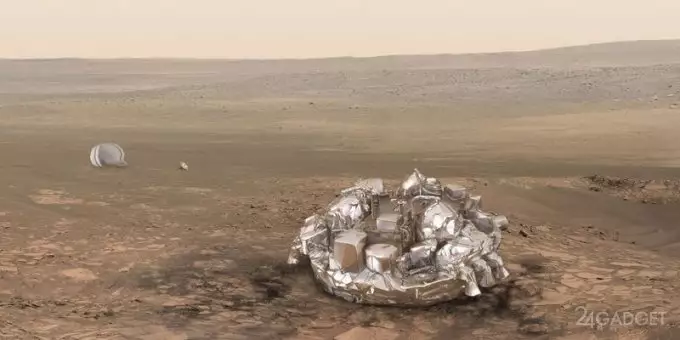 Representatives of the European Space Agency (ESA) reported that the Schiaparelli module, which was supposed to land on the surface of Mars at 17:48 on October 19, 2016, crashed. Such a disappointing conclusion, experts made on the basis of images obtained from the American probe Mars Reconnaissance Orbiter. On them you can see the place before and after the landing of Schiaparelli. So far the pictures are not clear, but two spots are distinguishable on them: dark – the airborne module, light – most likely, its parachute.
According to a preliminary analysis by ESA, Schiaparelli entered the atmosphere at an altitude of about 122 km above the planet's surface at a speed of 21,000 km / h, the parachute opened at 11 km and the speed of the probe was about 1650 km / h. 50 seconds before the landing, the signal stopped coming from the module. According to preliminary data, the engines of the device worked less than expected, as a result of which the Skiaparelli fell from a height of 2 to 4 km at a speed of more than 300 km / h.
Currently, ESA employees have only snapshots taken by a low-resolution camera. With the receipt of frames from a HiRISE high-resolution camera installed on the Mars Reconnaissance Orbiter, specialists will be able to draw a more detailed conclusion about the death of Schiaparelli.