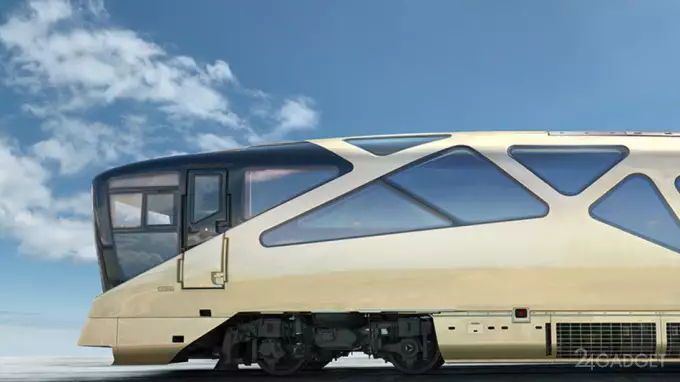 In the Land of the Rising Sun launched an original tourism project of a premium level on the railway. The Japanese company East Japan Railway provided wealthy people with the opportunity to travel around the country in a unique elite super-modern train Suite Shiki-shima. Implementation was carried out by a recognized master of his craft – Ken Kiyoyuki, at one time he worked as a senior designer at Porsche and General Motors.
The luxury railway train consists of only 10 wagons and allows a total of 34 passengers to travel. Shiki-Shima has 17 compartments of various classes, a common living room with a piano and fireplace, a restaurant and panoramic panoramic windows located in the extreme cars. The most prestigious and expensive class of coupe consists of three rooms, and the living room, bedroom and bathroom are located on two different levels.
5e429e4b5eb4e5b4e5b4e4b5e4b4e4b4e4b4e4b4e4b4e4b4e4b4e4b4e4b4e4b4e4b4e4b4e4b4e4b4e4b4b4e4b4e4b4e4b4e4b4e4b4b4e The train will run in three tourist destinations, the beginning of which begins in Tokyo. Traveling from the capital of Japan to the northern island of Hokkaido takes three days. The first excursion cruise tour started on May 1 of this year, and tickets for the next trips have already been sold out until March 2018.
The most expensive ticket in a two-level coupe for a three-day excursion in Japan will cost $ 9300 per passenger, a trip to a more ascetic coupe costs $ 44 for one seat.