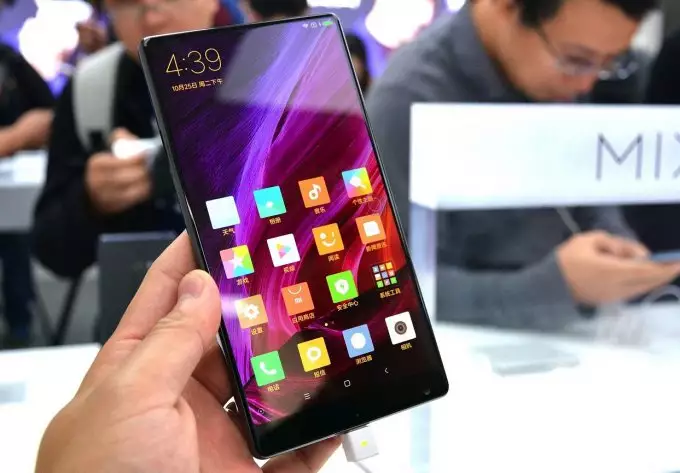 The frameless smartphone Xiaomi Mi Mix, called by the company itself "the concept of the world's first frameless smartphone", caused a lot of enthusiastic looks from the guests invited to the presentation, and despite the fact that in the advertising shots the frames on three sides of the screen are not visible, but in life they are still noticeable, the flagship is of genuine interest from potential buyers. Sales of new items should start on November 4, but Xiaomi says the manufacturing process of the device is extremely complicated, and therefore the device will arrive on the shelves in small batches, which can lead to hype around the Mi Mix. However, someone decides to abandon the acquisition and that's why.
Some of the brand new Mi Mix fell into the hands of Chinese testers and one of them published a picture demonstrating what would happen to an expensive gadget if it slips out of hand.
The photo shows that not only the 6.4-inch display, which occupies 91.% of the front side of the smartphone and is not covered with Corning Gorilla Glass, is damaged, but also the ceramic case, which was destroyed after a fall. Unfortunately, the details at which the drop test was carried out are missing. But it is unlikely that the test was different from the classical procedure, when the device falls from a 1 / 1.5-meter height onto a hard surface. If the potential buyer still does not intend to refuse to buy Xiaomi Mi Mix, but does not want to risk the perfect appearance of the gadget, he should worry in advance on the purchase of a protective case. For residents of the Middle Kingdom, it is also proposed to take out special insurance for a similar case for $ 37 (249 yuan). Without it, the display repair will have to fork out pretty much.
, engadget.com