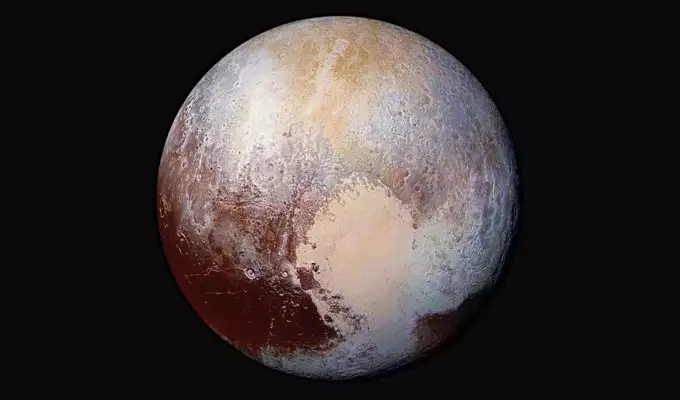 New Horizons spacecraft, flying past Pluto, still continues to regularly send materials to Earth. NASA experts shared some of the most spectacular images through their official website. Pluto said goodbye to the probe with a spectacular solar "halo". In fact, this is the hazy sky of Pluto, illuminated by the sun's rays.
The picture was taken on July 15, 2015, seven hours after approaching the dwarf planet.
On it you can see a haze rising 130 km above the surface of Pluto. Project lead researcher Alan Stern said his jaw dropped open at the sight of this image: "It reminds us that research brings not only incredible discoveries, but also incredible beauty."
"The fog found in this image is a key element in creating complex hydrocarbon compounds that give the planet a reddish tint," explained Michael Summers from the New Horizons project team with more restraint. Previously, scientists believed that the temperature on the sunny side of Pluto would be too high for fogs to exist at an altitude of more than 30 km. Now they will have to put forward new theories in order to understand what is really happening there.
In the meantime, we can only admire the last portion of the photo.
Among them is a group shot of dwarf Pluto and its moon Charon. And also Pluto itself, decorated in a new way with the imposition of color data recorded in the electromagnetic range inaccessible to the eye.
Now the New Horizons probe is deepening into the Kuiper Belt, which consists of small cosmic bodies left after the formation of the solar system. Behind this Belt, the probe is waiting for the boundary of the solar system and the transition to interstellar space. Thus, New Horizons will become the second man-made object in the history of mankind, which will leave the limits of the solar system.
Blue line – the trajectory of New Horizons. The yellow dot is Pluto. Green Dots – Kuiper Belt The first was Voyager 1, which appeared in interstellar space 36 years after launch. New Horizons, in addition to 5 billion kilometers traveled, will have to overcome the path almost three times longer – about 14 billion kilometers, which will take about 26 years. Launched New Horizons in January 2006.