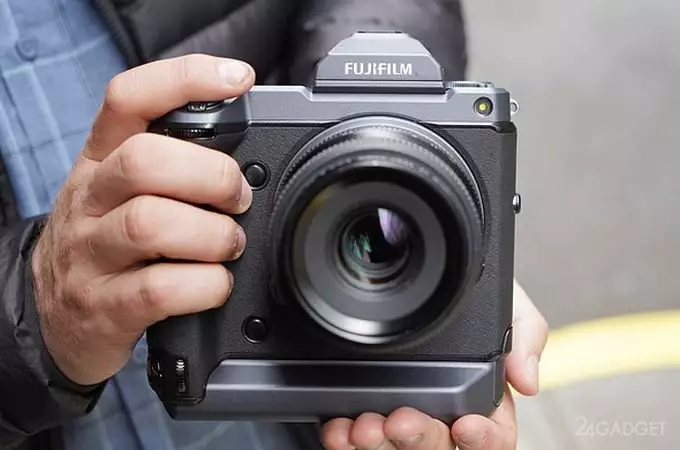 Fujifilm's new mirrorless camera GFX100 has become the flagship device capable of shooting with a unique resolution of 102 megapixels. The camera has a built-in function that allows you to pre-retouch photos directly during shooting. For the GFX100, a unique new 102 megapixel CMOS sensor with backlighting and an active area of 43.9 x 32.9 mm, which is 1.7 times more sensors in full-frame 35 mm cameras, was developed . The hardware of the digital camera runs on an X-Processor 4 processor developed by Fujifilm. The proprietary chip has the Smooth Skin Effect function, which provides automatic smoothing of skin tones, similar to retouching, which photographers perform when processing ready-made pictures.
Fujifilm GFX100 camera is equipped with 5-axis image stabilization, which together with the lens GF64mm F2.8 R WR can provide 5.5 degrees of stabilization. This function allows you to take a hand-held picture using the maximum resolution without risk of getting a blurry frame.
Phase autofocus uses 3.76 million pixels, which allows you to increase the focus speed by 210% compared with the contrast used in the model in the GFX 50R. Basic light sensitivity ranges from 100 to 12 800 ISO and can be expanded from 50 to 102 400 ISO. Burst shooting is supported at 5 frames per second. A 16-bit RAW format is also supported. Video can be recorded in 4K, 30 fps or Full HD, 60 fps.
The device contains: a removable OLED viewfinder with a resolution of 5.76 million pixels, a 3.2-inch folding LCD touch screen and two additional OLED displays to display additional information. Wireless communication is via Wi-Fi 802.11ac and Bluetooth. Two SD cards with UHS-II are supported. There is a jack for headphones and microphones. The mass of the camera is about 1.32 kg when equipped with two batteries. The case is made of magnesium alloy and has protection against dust and weathering.
The GFX100 will go on sale on June 27 at a price of $ 9999.
, fujifilm.eu